Houston Plastic Surgeon Answers Two Common Breast Reduction Questions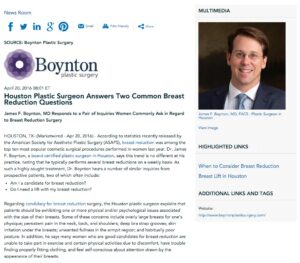 James F. Boynton, MD responds to a pair of inquiries women commonly ask in regard to breast reduction surgery.
Houston, TX — According to statistics recently released by the American Society for Aesthetic Plastic Surgery (ASAPS), breast reduction was among the top ten most popular cosmetic surgical procedures performed in women last year. Dr. James F. Boynton, a board certified plastic surgeon in Houston, says this trend is no different at his practice, noting that he typically performs several breast reductions on a weekly basis. As such a highly sought treatment, Dr. Boynton hears a number of similar inquiries from prospective patients, two of which often include:
Am I a candidate for breast reduction?
Do I need a lift with my breast reduction?
Regarding candidacy for breast reduction surgery, the Houston plastic surgeon explains that patients should be exhibiting one or more physical and/or psychological issues associated with the size of their breasts. Some of these concerns include overly large breasts for one's physique; persistent pain in the neck, back, and shoulders; deep bra strap grooves; skin irritation under the breasts; unwanted fullness in the armpit region; and habitually poor posture. In addition, he says many women who are good candidates for breast reduction are unable to take part in exercise and certain physical activities due to discomfort, have trouble finding properly fitting clothing, and feel self-conscious about attention drawn by the appearance of their breasts.
Once candidacy has been determined, Dr. Boynton states that many patients wonder if a breast lift in combination with a reduction might be needed to attain their aesthetic goals. His answer to this question is simple: "Every breast reduction includes a lift! It is built-in and fundamental to the procedure." At his practice, Dr. Boynton utilizes a medial pedicle technique that involves removing more tissue from the bottom of the breasts as opposed to the inside and upper pole. He then lifts the breasts on the chest wall for an improved projection as well as carefully contours tissue to achieve an ideal volume and optimal symmetry. In addition to the enhanced shape and projection (similar to that of a small implant), the Houston plastic surgeon notes that the medial pedicle method decreases the chance of the breasts "bottoming out" in the future, which is a potential complication of other, more traditional breast reduction techniques.
Ultimately, Dr. Boynton says these are simply two of the many questions breast reduction patients should ask when considering surgery, and he encourages anyone interested in this popular breast enhancement option to become fully informed about all facets of the procedure before making such a life changing decision.
For answers to other frequently asked questions about breast reduction surgery, visit Dr. Boynton's webpage on the procedure here.
About James F. Boynton, MD, FACS
After graduating from Duke University, Dr. Boynton attended the University of Texas Medical School at Houston to earn his medical degree. In addition to breast reduction, he offers a wide span of aesthetic procedures ranging from breast augmentation and abdominoplasty to liposuction and facelift surgery. He also provides an expansive array of nonsurgical treatments and skin care/rejuvenation services. Dr. Boynton is certified by the American Board of Plastic Surgery, a Fellow of the American College of Surgeons, and a member of several esteemed medical societies.
To learn more, visit boyntonplasticsurgery.com and facebook.com/DrBoynton. Dr. Boynton is available for interview upon request.
Contact:
Boynton Plastic Surgery
1900 St. James Place
Suite 200
Houston, TX 77056
(713) 800-6060
Rosemont Media
858-200-0044
www.rosemontmedia.com