While breast augmentation has helped millions of women across the globe successfully meet their cosmetic enhancement goals with results that last for many years, the removal of breast implants will likely be required at some point. There are a variety of reasons why breast implant removal is performed, and Dr. James F. Boynton offers advanced techniques to help individuals who may need this procedure. In many cases, breast implants are removed and replaced with a treatment called revision breast augmentation; in others, the implants are removed altogether without additional implants taking their place. This is often referred to as "explantation." Dr. Boynton is extensively skilled and experienced with breast implant removal procedures and can talk with you about your needs. He will develop a customized treatment plan designed to produce the best possible outcome.
Reasons for Breast Implant Removal
It is important to note that breast implants do not have a permanent lifespan and will eventually need to be removed or replaced. Even so, today's breast implants offer highly advanced options that can last for many years without an issue. Some of the reasons women have breast implants removed include:
The desire to upgrade to a new breast implant size, type, shape, or feel
The desire to go back to the original breast size (before breast implants were placed)
To address capsular contracture (scar tissue surrounding the implant that gives the breast a hardened feeling), implant rupture, or other complication that has arisen
To address an asymmetrical or irregular breast appearance
Concerns about the risks of general health conditions such as BIA-ALCL (Breast Implant-Associated Anaplastic Large Cell Lymphoma), which is an extremely rare immune system-related cancer that has been found in a small number of patients who have had previous textured silicone gel breast implants. More information about BIA-ALCL can be found here.
Our board-certified plastic surgeon will talk with you about your concerns and explain all aspects of the breast implant removal procedure during the initial consultation.
How Is the Breast Implant Removal Procedure Performed?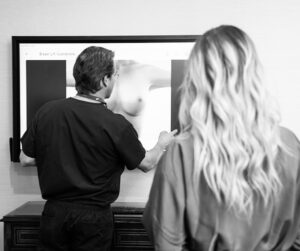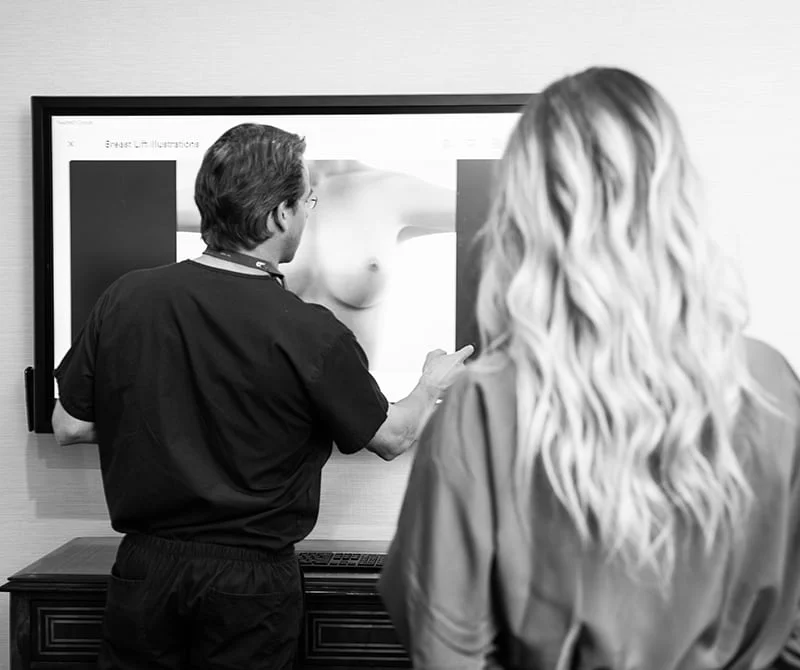 The breast implant removal procedure will be tailored to your individual needs. There are a variety of techniques that can be utilized, including the en bloc capsulectomy approach (described below). In some cases, a simple removal of the implant will be performed, depending on each patient and their preferences. In other cases, a portion of the capsule that naturally develops around the implant over time is also removed if it is thickened or calcified from an old implant that has ruptured. If the capsule is not "diseased," it is typically left intact and the implant is simply removed. If the capsule is thickened, contractured, or calcified, then a capsulectomy is performed, usually in conjunction with the implant removal. The term "en bloc" capsulectomy means the implant is removed in conjunction with the entire capsule as "one" specimen. Simple breast implant removals that are old saline breast implants, or if they are relatively recent smooth round silicone gel implants in which Dr. Boynton does not suspect implant rupture, can often be performed in the office. Sometimes en bloc capsulectomy can be done if it is necessary; however, other times it is not necessary, and trying to remove entire capsules that are not diseased may even be excessively risky or dangerous for some patients. Many patients Dr. Boynton sees may be in their late 60s and have had breast implants for some time. Some of these individuals may have found that, with menopause, their breast size has increased, which makes them now consider having the implants removed in conjunction with a breast lift.
For many patients, the same incisions used for the initial breast augmentation can also be used to remove the implants. In some cases, patients may choose to undergo a breast lift in combination with a breast implant removal procedure, which can help reshape any loose breast tissue that can result after the implants are removed. Dr. Boynton can talk more with you about this option and help you determine whether it may be beneficial for your needs.
Simple breast removals can sometimes be done under local anesthesia here in our office. Aged or older breast implants that often have hardened need to be performed in the operating room under general anesthesia because, in these cases, most or all of the capsule will be removed in addition to the implant. Breast implant removal surgery can typically be performed on an outpatient basis without the need for an overnight hospital stay.
What Is En Bloc Capsulectomy?
An en bloc capsulectomy is the term used to describe a technique that removes both the breast implant and the capsule that surrounds it "in one piece." The media and certain websites that talk about "Breast Implant Illness" have popularized this surgical term, so many patients are now asking about it. Over time, the body's natural impulse to protect itself from a foreign object results in the formation of a capsule around the breast implant. When this capsule becomes excessively tight or thick with scar tissue, "capsular contracture" has likely set in, which can create a noticeable feeling of "hardness" around the implant. In other cases, such as those where a silicone implant has ruptured, the capsule may still be intact while the implant inside is leaking. An en bloc capsulectomy can sometimes be advantageous for women who are experiencing either capsular contracture, a ruptured implant, or both of these conditions.
In some cases, en bloc capsulectomy can be an acceptable technique; however, in many cases, it is not possible or practical. It is also important to know that it usually requires a larger incision than other capsulectomy methods. Dr. Boynton believes the most important thing to do if the capsule is "diseased" is to get as much of the calcified or thickened capsule out, whether he is removing the implant or replacing it with a new implant. If the pocket is under the muscle, the posterior or "bottom" of the capsule can often be very "plastered" down onto the rib cage and other structures. As a prudent plastic surgeon with good judgment, Dr. Boynton believes that, in many cases, this posterior capsule has to be "left behind" for medical safety reasons and prevention of dissection into the lung cavities—which can be life-threatening and cause much debility, and is more common with the en bloc capsulectomy technique.
Dr. Boynton will determine whether en bloc capsulectomy is the right option for your breast implant removal procedure once he has evaluated your unique needs.
What Is the Breast Implant Removal Recovery Like?
The recovery process for each patient is often different based on their anatomical needs and the breast implant removal technique utilized; however, most individuals are ready to resume some of their regular daily activities just a few days following the procedure. Bruising and swelling in the breast areas will be present after surgery—these effects should dissipate over the next few weeks. Medication can help control post-operative discomfort. Patients should refrain from strenuous activities for a minimum of six weeks after surgery. Dr. Boynton will provide you with detailed recovery instructions that can help you heal as safely and comfortably as possible.
How Noticeable Are the Scars from Breast Implant Removal?
For many individuals, the incisions for breast implant removal can be placed in the same locations as those created for the placement of the implants, which typically results in little to no scarring in excess of what was already there. With that in mind, incision placement for breast implant removal procedures will ultimately depend on the technique utilized for the initial breast augmentation and other factors unique to each individual. Dr. Boynton can provide you with more detailed expectations once he has examined you during the consultation.
How Much Does Breast Implant Removal Cost?
The cost of a simple breast implant removal that can be performed here at our office typically starts at an approximate range of $4,750 and upwards. If the breast implants need to be removed in another operating facility, the cost is often closer to $5,500. If a capsulectomy is also being performed (which is the most common scenario) the price is often in the $9,500 range. For patients who are having a breast lift in tandem with the breast implant removal procedure, the cost will be higher.
These figures are general averages; since breast implant removal is dependent on each patient's unique needs and customized treatment plan, the total price of this procedure often varies. Factors that will be taken into account include the specific implant removal technique that is utilized, costs associated with anesthesia and use of the surgical facility, the complexity of the treatment, whether an additional treatment such as a breast lift or the placement of new implants is performed, and other associated expenses. A member of Dr. Boynton's staff will go over your treatment plan at the initial consultation and produce a total cost estimate so you will know what to expect before the treatment is performed. We can answer all of your questions regarding the payment methods we accept at our practice, and talk with you about plastic surgery financing options that offer qualified applicants a variety of convenient payment arrangements. Our team looks forward to addressing any questions or concerns you may have.
For more information on breast implant removal procedures, or to schedule a consultation with Dr. Boynton, please contact us today.