In-Office Power-Assisted Liposuction (PAL)
Since its inception in the early 1980s, liposuction (lipo-contouring) has proved to be a great option for many people seeking to eliminate localized accumulations of excess fatty tissue that remain resistant to both diet and exercise. As with many cosmetic procedures, techniques for performing liposuction have evolved over the years, leading to the advanced (and even more effective) modalities available today. One such modern technique that Dr. James F. Boynton is pleased to offer at our Houston practice is in-office power-assisted liposuction (PAL).
Explore Topics On This Page
What Is Power-Assisted Liposuction?
Power-assisted liposuction, or PAL, is an innovative form of lipo-contouring that can often be performed in the comfort of our office due to the relative ease and gentleness of the procedure. Compared to traditional liposuction—which requires manual back and forth movement of a cannula to break up and suction out fat tissue—PAL utilizes a power-assisted cannula that automatically moves back and forth as it is carefully guided throughout the treatment area by the plastic surgeon. Key benefits of this distinction include:
Better surgical precision and control for improved body sculpting
Less tissue trauma, swelling, and bruising
Enhanced patient safety and comfort
Higher cell viability for fat transfer
Quicker recovery periods
Ability to be performed in-office (as opposed to a hospital or surgical center)
At our practice, Dr. Boynton uses the power-assisted lipo-contouring system developed by MicroAire® Surgical Instruments, which has enabled him to reduce fat and create beautiful, natural-looking body contours right here in our office for numerous patients.
Who Is a Candidate for PAL Liposuction?
Good candidates for power-assisted liposuction typically include women and men who have stubborn pockets of fat in the abdomen, hips, love handles, buttocks, thighs, back, arms, chest, and/or neck—virtually anywhere on the body that has good skin quality and elasticity. PAL lipo-contouring can also be an excellent option for individuals who are in need of "spot" or "touch-up" treatments to correct contour irregularities produced by a previous, unsatisfactory fat reduction procedure.
At the time of your consultation, Dr. Boynton will perform a full physical evaluation, review your medical history, and discuss your treatment goals to determine if PAL lipo-contouring is right for you, or if another procedure would be more suitable for your unique needs. It is important to understand that PAL liposuction is not a weight loss procedure, but rather a cosmetic treatment meant to help you achieve your desired body contour as a complement to diet and weight loss efforts. As a result, Dr. Boynton may recommend reaching—or getting very near to—your ideal weight prior to proceeding with this body sculpting surgery.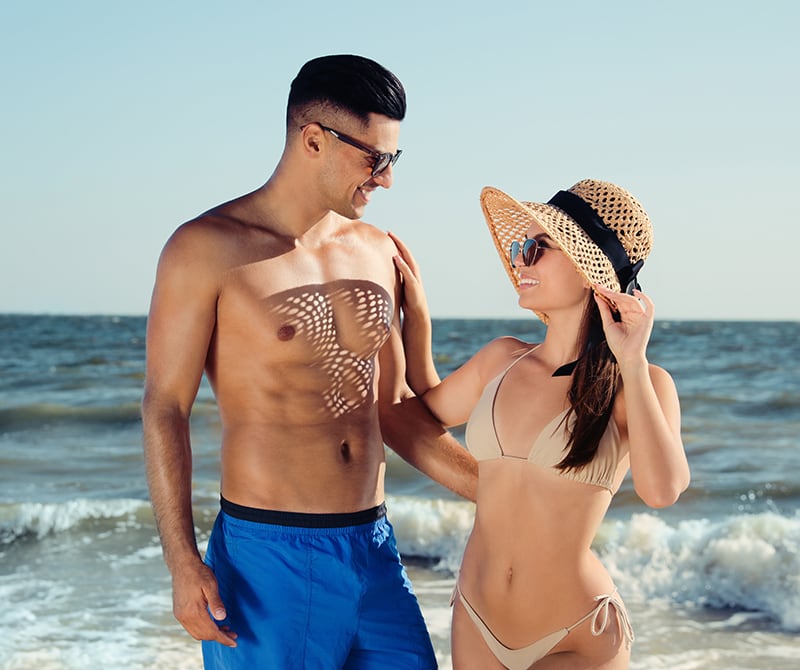 How Is Power-Assisted Liposuction Performed?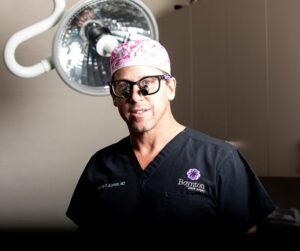 Dr. Boynton generally performs PAL liposuction in our office using local tumescent anesthesia. This makes the procedure incredibly convenient for patients, essentially creating a "walk-in, walk-out" treatment experience that avoids the hassle of hospitals/surgical facilities and their associated fees. In some cases, however, patients prefer to go to surgery and do the same PAL lipo-contouring under anesthesia, as there are safety limits to how much volume / how many areas can be done in one in-office setting.
To begin power-assisted liposuction, Dr. Boynton typically first utilizes a local anesthetic to desensitize the area targeted for fat removal. Next, he injects a tumescent wetting solution consisting of lidocaine, epinephrine, and sterile saline—three components that respectively help to further numb the treatment area, minimize bleeding, and inflate fat cells for easier removal. Once the solution takes effect, Dr. Boynton makes small, inconspicuously placed incisions through which the PAL cannula is inserted and guided around to gently and precisely extract excess fat and sculpt the region. When an optimal contour is achieved, the incisions are left open to allow for fluid drainage that helps decrease swelling/bruising. In the event fat grafting to another region of the body is desired, the viability of the fat tissue harvested via PAL is often considered excellent for reinjection and long-term survival.
Total treatment time for power-assisted lipo-contouring will depend on the number of areas targeted and the amount of fat removed. As an in-office procedure, patients do not usually require an extended stay in a recovery room before being able to return home.
What Is Recovery from PAL Liposuction Like?
Some initial bruising and/or swelling can be expected after power-assisted liposuction, though the degree to which these effects occur and persist is usually less than with traditional liposuction. Special compression garments provided by Dr. Boynton will need to be worn for a specified amount of time to facilitate healing and help promote an ideal final contour. Postoperative pain is rare; however, any discomfort experienced can often be easily alleviated with medication.
The majority of Dr. Boynton's PAL lipo-contouring patients look and feel well enough to resume normal daily routines—such office jobs, school, running errands, etc.—within a few days, if not 24–48 hours after treatment. That said, more physically demanding activities like vigorous exercise, heavy lifting, contact sports, and more should be avoided for longer.
Based on your unique treatment plan, Dr. Boynton can give you a more personalized idea of what to expect in regard to recovery during your consultation.
Contact Boynton Plastic Surgery
For more information about power-assisted lipo-contouring, or if you are interested in fat reduction and wish to find out if PAL is right for you, please reach out to our practice online or by telephone today.