BOTOX® Cosmetic, Dysport®, & XEOMIN®
Injectable treatments are some of the most popular and effective ways to effectively reduce common signs of facial aging without the need for surgery. With BOTOX® Cosmetic, Dysport®, or XEOMIN® injections, you can smooth away wrinkles and fine lines for a more youthful and refreshed appearance. These injectable products are composed of purified protein neurotoxins that are most commonly injected for the treatment of frown lines and wrinkles above and between the eyebrows (glabella lines), across the forehead, and on the sides of the eyes ("crow's feet").
Our board-certified plastic surgeon, James F. Boynton, MD, offers all of the major aesthetic neurotoxin products, including the new Jeuveau™ injectable treatment, so that our patients have a comprehensive selection of options that can meet their unique needs and goals. Dr. Boynton is extensively skilled and experienced with injectable procedures and each treatment is customized for the best possible results.
The information below will provide you with more details on these extraordinary aesthetic enhancement solutions. If you have questions, or if you would like to schedule a consultation, please contact us today.

What Is BOTOX® Cosmetic?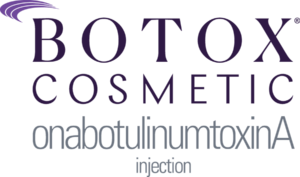 BOTOX® Cosmetic is a non-surgical injectable treatment designed to temporarily smooth away facial wrinkles for a more youthful and refreshed look. This popular aesthetic enhancement option is composed of a diluted form of botulinum toxin type A, which is why BOTOX® Cosmetic and similar injectable products are sometimes referred to as "neurotoxins" or "neuromodulators." Wrinkles and lines that develop in certain areas of the face are typically caused by the contraction of underlying muscles. The BOTOX® Cosmetic solution is injected into the specific facial areas targeted for treatment, and essentially works by temporarily stopping the underlying muscles in those areas from contracting. This can result in a smoother, wrinkle-free appearance.
BOTOX® Cosmetic was approved by the U.S. Food and Drug Administration for frown line reduction in April 2002, and since has become one of the fastest-growing cosmetic procedures performed by plastic surgeons, with millions of people undergoing the treatment over the years. In addition to frown lines (furrows between the eyebrows), BOTOX® Cosmetic is a popular option for addressing crow's feet, forehead creases, and other concerns. BOTOX® injections can also be utilized for patients who suffer from excessive sweating in the armpits (hyperhidrosis).
What Is Dysport®?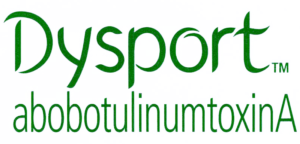 Very similar to BOTOX® Cosmetic, Dysport® is also composed of botulinum toxin type A and is typically performed to diminish signs of glabellar lines (frown lines), crow's feet, and other signs of wrinkles and creases along the face. Dysport® was approved by the FDA for frown line reduction in October of 2009 and was used for quite some time in Europe prior to that. This injectable solution does not have many significant differences with BOTOX® Cosmetic, and they both work in the same basic way. With that in mind, Dysport®'s protein composition does have some slight distinctions, which may make it a more ideal alternative for some patients. We can explain all aspects of these injectable options during the initial consultation and help you determine which is the better treatment for your needs.
What Is XEOMIN®?

Dr. Boynton is also pleased to provide FDA-approved XEOMIN® injections. Released by Merz Aesthetics, XEOMIN® has proven to significantly improve the appearance of glabellar (frown) lines and wrinkles in the face. This treatment can also help reduce excessive underarm sweating. As one of the earliest providers of XEOMIN®, Dr. Boynton is proud to offer the treatment as an alternative to BOTOX® Cosmetic or Dysport®. XEOMIN® also has a lower protein count than other dermal injections, which can be helpful to patients who may have developed antibodies or an allergic response to these treatments. Like BOTOX® and Dysport®, one of the main ingredients of XEOMIN® is botulinum toxin type A and the solution works in much the same way as those injectables; however, there are subtle differences which could make XEOMIN® a more desirable alternative in some cases.
What Does the Treatment Entail?
Through a quick, in-office procedure, BOTOX® Cosmetic, Dysport®, or XEOMIN® injections can help you achieve a more youthful appearance by reducing signs of aging with long-lasting results. Injection procedures can be performed right here at our office, and they typically take only 10 to 15 minutes to complete, depending on the particulars of each patient's treatment plan.
The specific facial musculature areas and wrinkle lines will be precisely "mapped out" in order to develop the best plan and dosing amounts for the BOTOX® Cosmetic, Dysport®, or XEOMIN® injections. During the treatment, the skin will first be cleaned with alcohol and prepared for the injections. Extremely small needles will be used for the injections to minimize any potential pain. The discomfort of the injection is usually less than a small "bug bite." A topical anesthetic can often be applied to the skin before the injection to further lessen the possibility of discomfort. Ice packs are used afterwards to minimize any potential bruising.
These treatments can not only significantly improve wrinkles, but also achieve what's commonly referred to as a "BOTOX® browlift." This has become a very popular way to "optimize" the appearance and position of the female brow without having to do a surgical procedure. Injections can also be performed around the corners of the mouth to "turn up" areas that may have "turned down" with aging.
There are important differences in male and female anatomy, with males usually having thicker and stronger facial muscles. Rest assured that our team recognizes and analyzes those differences and adjusts the dosing appropriately for certain male patients in order to get the same improvement and efficacy.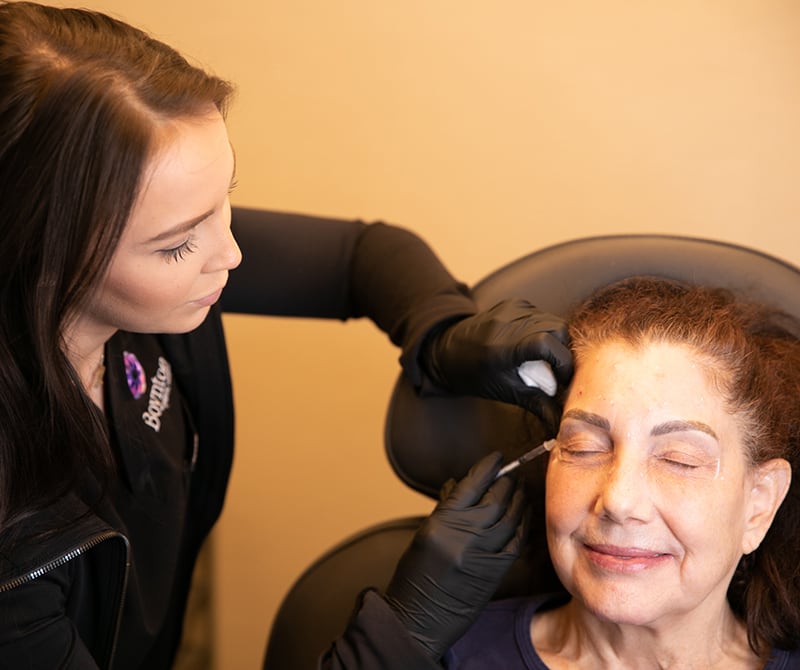 Natasha – Patient Testimonial
Are There Any Side Effects?
BOTOX® Cosmetic, Dysport®, and XEOMIN®injections can result in a small bruise around the injection site. On a very rare occasion, they can also result in a brow depression or mild droopiness of the eyelid. If this occurs, the effect tends to wear off in several weeks. Most patients will likely experience a mild degree of swelling and redness in the treatment areas, but these temporary side effects should quickly diminish. Individuals who undergo treatment with these injectables are typically able to resume normal daily activities right after the procedure, with no need for a recovery period.
How Long Do the Results Last?
The full effects of BOTOX® Cosmetic, Dysport®, and XEOMIN® injections are typically seen within five to seven days after the initial treatment, and often last three to four months. Some patients may experience the effects for even longer periods. The results of these injectable procedures can also be extended with occasional "touch-up" treatments.
BOTOX® and XEOMIN® Treatment for Excessive Underarm Sweating
Dr. Boynton is also experienced in injecting BOTOX® Cosmetic or XEOMIN® for the treatment of underarm hyperhidrosis (sweaty armpits). Patients who have this condition can be very debilitated from the embarrassment of severe armpit sweating, with some having to change shirts multiple times per day. BOTOX® or XEOMIN® injections for this condition can significantly lessen the phenomenon, with results lasting up to a year for many patients.
What Do Dysport®, XEOMIN®, and BOTOX® Injections Cost?
The average price of BOTOX® Cosmetic, Dysport®, or XEOMIN® treatment typically ranges between $12 and $18 per unit at our practice; however, it is important to remember that this may not reflect the final cost of each patient's procedure because the treatment is uniquely customized. Factors that will be taken into account for the overall cost of treatment include the specific type of injectable utilized, the amount of the solution's "units" that will be injected, the number of areas being treated, and other components. Once your needs have been evaluated and your personalized treatment plan has been developed, a member of our team will calculate the total cost of the procedure and answer any questions you may have about our payment options. We accept many convenient payment methods, including financing plans available through CareCredit®. This reputable lending firm offers an expansive selection of affordable payment plans for applicants who qualify.
If you would like more information about XEOMIN®, BOTOX® Cosmetic, or Dysport® and how to decide which procedure is right for you, contact our office to schedule a consultation. We are more than happy to meet with you for an initial appointment to determine if any of these injectables might be a good option for reaching your aesthetic goals, or if another non-surgical cosmetic enhancement technique would be more ideal.