Which Is the Best Facial Rejuvenation Treatment for Me?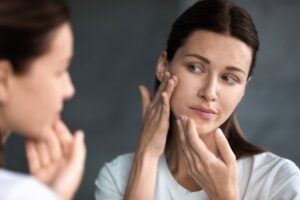 Our modern cosmetic surgery world has many solutions for signs of aging in the face. These treatments range considerably, from surgical to non-surgical procedures, injectables, peels, and more. When it comes to dynamic wrinkles in the face (e.g., crow's feet, marionette lines, nasolabial folds, and frown lines), patients tend to either go the surgical route with a facelift, or the non-surgical route with dermal fillers. Most patients in their 40s start to notice "volume" loss around the mouth and down-turning of the corners of the mouth. Oftentimes, dermal fillers can be a good "first option" at restoring the youthful volume. As facial aging progresses, we all get a little "saggy" on the sides of our face, which leads to cheek descent and "jowling" (that little bulge of soft tissue that falls off the jawbone and can change the shape of the lower face to a more "square" face — think of a bulldog as an extreme example of this). These issues cannot be "fixed" with filler and only a facelift or cheek lift of some sort can "lift" and restore the sagginess to the jawline. Many have tried "energy devices," but surgical lifting is and always has been the gold standard. Both of these options can help reverse the effects of aging (but they do different things) — especially when performed by a qualified plastic surgeon such as James F. Boynton, MD, FACS. Dr. Boynton has used a variety of methods to combat wrinkles and has developed many of his own facial rejuvenation techniques using his well-honed skills.
At our office, we offer extensive options for those interested in dermal fillers, including the entire Revance® RHA® Collection. One of the best dermal filler brands on the market, the RHA® Collection includes fillers for various levels of facial aging. Like many of the top dermal fillers available, they consist predominantly of hyaluronic acid (HA), which is a natural substance in the human body that helps keep the skin stay hydrated and smooth. Revance® fillers can be injected into the mid-to-deep dermis or subcutaneous tissue, depending on the extent of wrinkles or lines. Many of our patients have delighted in the brief, minimally-invasive procedure associated with the RHA® Collection, as well as the subtle-yet-natural results these products regularly provide. While they can be very effective in rejuvenating the skin, note that dermal fillers are typically the best option for mild to moderate wrinkles and lines.
A facelift is a surgical lift that is often better suited for more severe dynamic wrinkles, sagginess or laxity, and jowling, as well as neck laxity. It can lift the cheek and restore the cheek volume into the right place, soften the nasolabial folds, reduce the jowls along the jawline, and also reduce the neck laxity to give more of an "angle" under the chin. The incisions are well-disguised behind and in the creases of the ear, as well as in the hairline under the sideburn. Most of the time, there can be a hidden incision under the chin, as well, depending on the patient's anatomy. Compared to "traditional facelift" incisions, Dr. Boynton utilizes a much shorter incision that does not go "way up into the hairline" above the ear or way behind the ear along the hairline. His facelift technique is designed to be less invasive and by some standards would be considered a "mini lift" because it involves less tissue dissection and a faster recovery. Traditional facelifts typically take about three weeks of recovery; however, Dr. Boynton's facelift patients usually enjoy only one week of recovery. The word "facelift" connotes fear in some patients because they are used to thinking of it as a very long, complex surgery done in a hospital with a long recovery. Dr. Boynton has developed his custom, in-office facelift procedure over the last 10 years, which is something he really enjoys and is passionate about. This is an in-office procedure with local anesthesia and only oral sedation (no IVs). This is more analogous to a dental procedure that takes several hours and patients have less nausea, less cost, quicker recovery, and no need to go to the hospital. For an example of Dr. Boynton's advanced facelift and necklift results, read about this recent case.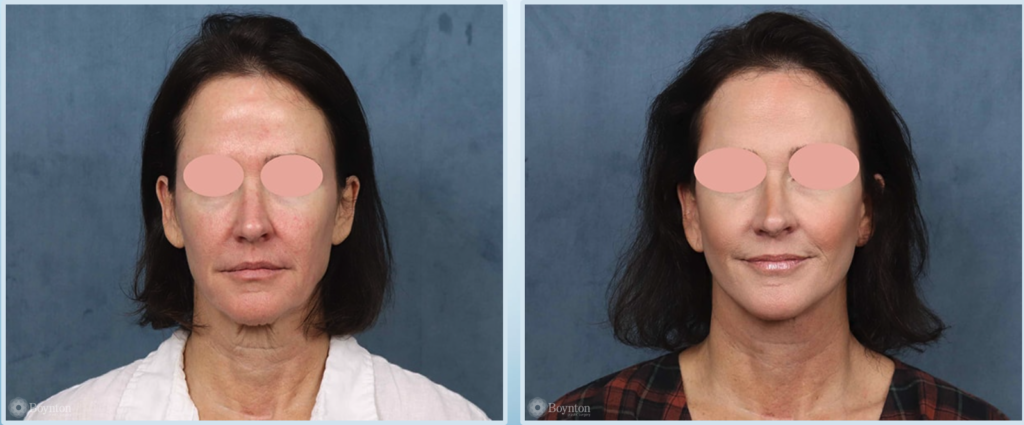 The best facial rejuvenation option for you depends on your aesthetic goals and overall health. Alternatively, you may be interested in treatment for more severe wrinkles without surgery, or you may be experiencing "filler fatigue." For filler fatigue, Dr. Boynton usually suggests fat injections! Surgical lifting can address laxity, whereas HA fillers like Revance® or fat injections restore volume. Dr. Boynton's preference over time is fat injections, but patients often start with fillers, which are "reversible."
If you are interested in facelift surgery, dermal fillers, or another type of advanced cosmetic rejuvenation procedure, feel free to contact us