Wearing heavy earrings for many years can cause the earlobe to droop and stretch, and it can pull the "hole" downward, causing the hole to "stretch" and even to "split." This is a very common condition that many women seek to have corrected. Sometimes, it can be caused by a child pulling on the earring, heavy phone usage on that side, or basically anything catching on the earring that causes trauma. Whatever the cause, earlobe surgical repair is the same. As a plastic surgeon, Dr. James F. Boynton has a specialized technique that he can perform in the office, with only numbing medication, in about 20 minutes or less. Many times, patients elect to have both earring "holes" fixed. In other cases, it may be just one side. The tissues are repaired, if the earlobe is torn completely, using very fine sutures. A simple tape is placed over the earlobe for a week. Dr. Boynton follows the patient through their recovery, which is quite fast, and then "re-pierces" the earlobe for the patient. This usually takes place about six weeks after the procedure.
The results are excellent, and patients do really well with this procedure. There is a small risk of recurrence which can happen (less than 10% of the time), and if so, this is something that can usually be repaired again in the office. Many times, it is a product of the tissues and the factors that caused the stretching in the first place, especially if patients continue to wear earrings that are large and heavy.
The earlobe in particular ages with the face, as all of us age, and becomes more ptotic or "droopy" in men and women. This especially occurs as we get into our 50s-60s. Sometimes, patients need an earlobe "lift" or even reduction in size to recreate the youthful shape and appearance of the earlobe. In some cases, Dr. Boynton does an earlobe lift and/or reduction in conjunction with the repair. Other times, especially in conjunction with a facelift and neck lift, the earlobe is often lifted or rejuvenated in order to improve its appearance.
Finally, there has been some popularity in "gauge earrings" among some women and men over the last decade, whereby a plug insert is placed and the earlobe hole is progressively stretched to quite large sizes in some cases. Dr. Boynton has seen a number of patients that previously wore "gauged earrings" and later wish for reconstruction. As one might imagine, the hole is left quite large after they stop wearing the earrings and it requires a bit more work to reconstruct. The patients Dr. Boynton has seen have decided to no longer wear the earrings and desire improvement in their appearance. Dr. Boynton usually performs a wedge reduction / earlobe lift and repair in order to reconstruct the earlobe back to a normal appearance.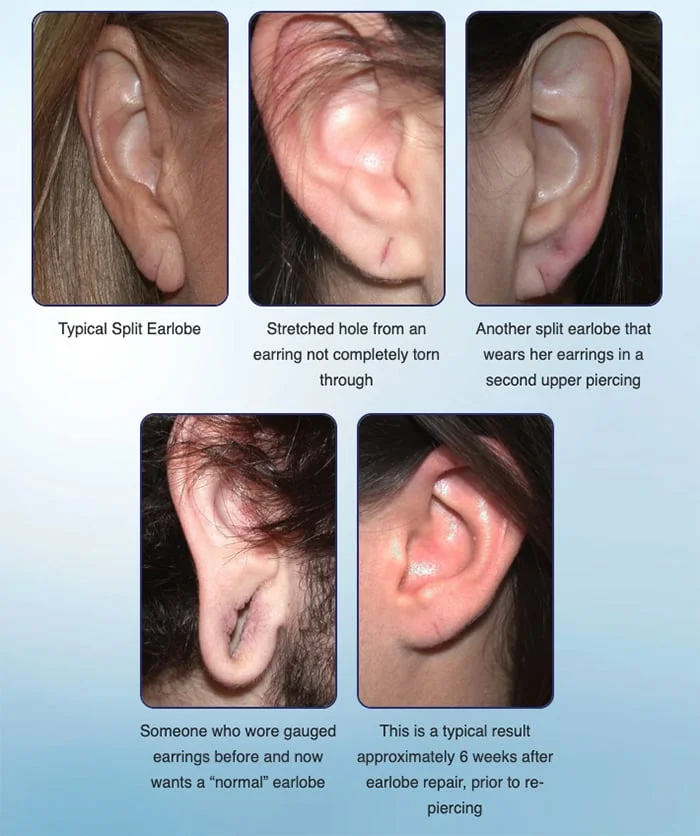 How Much Does Earlobe Repair Cost?
Here at Boynton Plastic Surgery, earlobe repair procedures typically fall in the $1,500 – $2,000 range. The cost of ear repair treatment varies among patients depending on the extent of treatment necessary, the technique utilized, and other factors. A member of Dr. Boynton's team will produce a total price estimate of the procedure once your customized treatment plan is developed during the initial consultation. We will be happy to answer any questions you may have about our accepted methods of payment, and we can also discuss plastic surgery financing options that can help qualified applicants pay for their ear repair procedure on a convenient monthly basis.
Schedule an Ear Repair Consultation
Please contact Dr. Boynton to schedule an ear repair consultation. Our board-certified plastic surgeon will be happy to discuss your treatment options and answer each of your questions.