Excitement About Earlobe Enhancement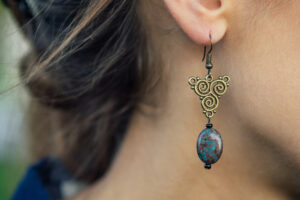 The earlobe is a very important aesthetic structure and "feature" of the face for women (and men, too). Most little girls look forward to getting their ears pierced and wearing earrings from an early age. My daughters begged me at age nine to pierce their ears. It is an important part of being feminine, and decorating the earlobes is a big deal.
Over time, earlobes change—they can droop, stretch, and the holes can expand depending on the weight/size/pull of earrings. As a result, it is very common for women in their 30s and 40s to seek "earlobe repair." Many times this may be related to asymmetries in how their earrings hang or frame their face. Often, one "hole" will stretch and lengthen, sometimes even tearing through to create a truly "torn earlobe." This is most commonly related to a "piercing gun" done too low on the earlobe as a child. Other times, the tissues change with aging, and as the earlobes become more "fragile," they cannot support the "weight" of the earrings without the hole lengthening vertically.
It's getting more and more popular in pop culture now, but I have been excited about earlobe repair and enhancement for almost 15 years. For a long time, the earlobe was a neglected feature of the face that didn't get a lot of attention. I believe giving a woman a "new set" of earlobes and then re-piercing them is very exciting and rewarding.
I became quite busy with earlobe repairs when I started my practice in 2005. I tried a number of techniques and, over time, developed what I believe to be a precise and technical method that rebalances and establishes the aesthetic shape of the earlobe. My technique not only "fixes" the hole, but it also provides an earlobe "lift" when necessary. Some patients have extra "creases and folds" about the earlobe that happen with aging and tissue deflation over time. Getting the shape corrected and back in balance with the rest of the ear, I believe, is as important as fixing the hole.
Earlobe Repair and Gauged Earlobe Reconstruction
As I continued on my earlobe journey, I would see more and more "revision" patients that had a one- or two-stitch repair performed by their dermatologist or a non-plastic surgeon. I began to take on the most challenging earlobe anatomy more than 10 years ago—the gauged earlobe. This fad is quite popular among teenagers and men and women in their 20s; however, most individuals get to a point in their lives when then want them "fixed," usually for professional development, admission into the military (which will not allow gauges), etc. I developed a technique that reduces both the vertical and horizontal dimensions of the earlobe as well as fixes the "droopiness" and "large holes" to the ears. I find those cases challenging and especially rewarding.
Typical aesthetic case on a "redo" that had been repaired before and starting to "re-droop (before and after)."
Typical gauge earlobe reconstruction (before and after).
Earlobe Rejuvenation
The earlobes "age" with the face, and as a plastic surgeon that devotes a large amount of my practice to facelifting, the earlobe cannot be ignored. When we go to the car wash, we don't clean the tires and leave the rims untouched. Similarly, we cannot ignore the earlobes. Lifting and improving the earlobes in conjunction with the face keeps things in balance. Sometimes I even add microfat injections and lipofilling into the earlobes to "plump them out" a bit if they have become deflated with age (which is common). A well-done facelift that "leaves" earlobes aged and saggy is disharmonious and stands out to me. Fixing the aesthetics of the earlobe takes all facelifts up a notch.
It is also important to note that aging and/or disproportionately sized earlobes is not just a concern for women—older men can have really "long" earlobes or even large earlobes that they want reduced in size. These issues can be addressed with earlobe enhancement as well.
Contact Dr. Boynton
For more information about earlobe repair and enhancement, please feel free to reach out to our practice online or by telephone today.