Liposuction / Lipocontouring
Liposuction, also referred to as lipocontouring, is a cosmetic surgery procedure designed to extract collections of excess fat in isolated body areas. For many individuals, even those who maintain healthy diets and rigorous exercise routines, fat pockets that have developed in certain regions of the body remain resistant to traditional fat reduction efforts. These pockets of excess fat can develop in the abdomen, thighs, love handles, hips, knees, arms, armpits, neck, and other areas. Our board-certified plastic surgeon, James F. Boynton, MD, is extensively trained and experienced in state-of-the-art liposuction techniques that can address these concerns and help patients achieve enhanced body contours. With advanced tumescent lipoplasty (also sometimes called "lipocontouring"), Dr. Boynton can help both women and men reduce excess fat pockets with exceptional results.
To learn more about liposuction, we encourage you to watch the educational videos below and continue reading through the content provided on this page. Should you have any further questions, or if you are interested in scheduling a liposuction consultation, please contact Boynton Plastic Surgery today.
Explore Topics On This Page
What Are the Benefits of Liposuction / Lipocontouring?
Liposuction has served as an effective excess fat removal treatment for decades, and liposuction/lipocontouring techniques have seen many advances over the years. Some of the many benefits of liposuction include:
Reduction of excess fat that has accumulated in specific regions of the body
Enhanced body contours and a more "slender" appearance in certain areas
Improved definition in targeted areas
The treatment is typically performed on an outpatient basis
Long-lasting results as long as weight fluctuations are minimized
Additionally, liposuction can benefit patients in other ways. For instance, Dr. Boynton has seen that liposuction performed near sweat glands located in armpit areas has helped some patients improve hyperhidrosis (excessive sweating). Dr. Boynton will be happy to meet with you for an initial consultation to discuss your concerns and answer questions about liposuction and treatment options that may be right for your goals.
In-Office Power-Assisted Liposuction / Lipocontouring
In addition to traditional lipocontouring techniques, our practice also offers in-office power-assisted liposuction (PAL). This advanced liposuction system from MicroAire® Surgical Instruments can be advantageous for many patients who primarily require a "spot" or "touch-up" treatment. Recovery time is often less than traditional liposuction and the procedure can usually be performed right here at our practice rather than an offsite hospital or surgical facility.
We sometimes refer to our in-office power-assisted lipocontouring capabilities as "Walk-In/Walk-Out Liposuction" since patients typically do not need to take a valium before the procedure. In many cases, patients may not even need to have someone else drive them to and from the office for the treatment. A state-of-the-art tumescent wetting solution can be used for numbing the treatment area to minimize the potential for pain or discomfort during the procedure. The in-office lipocontouring treatment can then be performed, and a compression garment can be placed before sending the patient home. Some may even describe this treatment as a "Lipo Over Lunch" procedure!
Am I a Candidate for Liposuction?
Liposuction/lipocontouring continues to be one of the most popular body contouring procedures performed annually due to its high levels of success and patient satisfaction. Good candidates for this body sculpting treatment include individuals who:
Are troubled by accumulations of extra fat in one or more areas of the body
Are healthy and in relatively good shape
Have no unmanaged medical conditions that may inhibit proper healing
Have decent skin quality and elasticity
It is important to note that although liposuction is used to remove excess fatty tissue, it is not a weight loss procedure. Consequently, patients should be at—or close to—their ideal weight and understand that this treatment is intended to help them achieve their body contouring goals as a supplement to their diet and exercise efforts.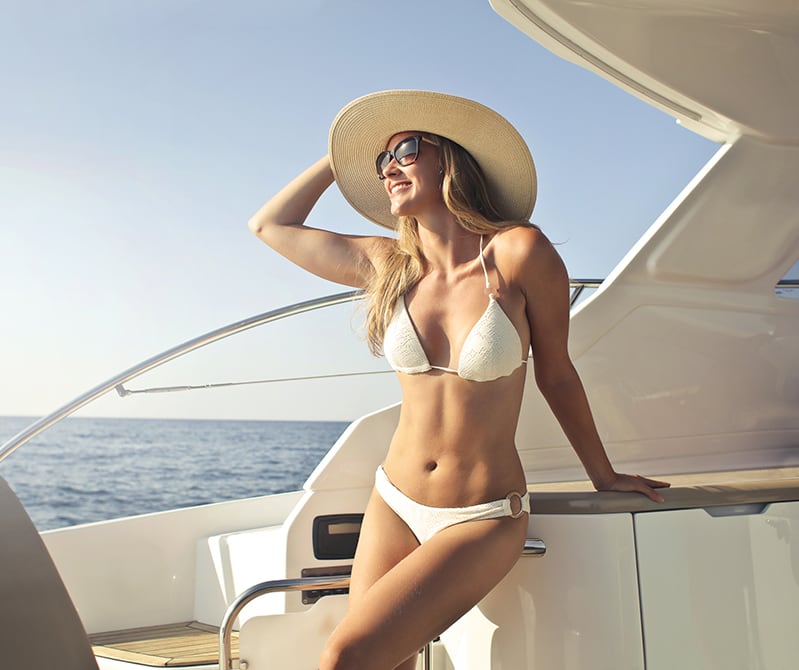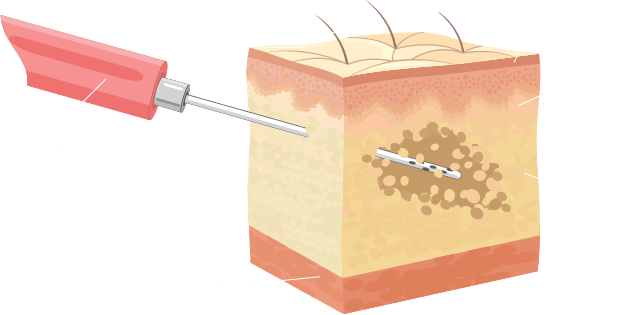 What Does the Liposuction Procedure Involve?
Throughout his years in practice, Dr. Boynton has found it most successful to perform liposuction under general anesthesia as a short, outpatient procedure. Many body areas can be simultaneously addressed with the convenience of one surgery, and no discomfort is experienced during treatment. As a result, patients rarely complain about this approach.
The liposuction procedure is performed through tiny puncture incisions that heal inconspicuously. Once incisions are made, Dr. Boynton will use a small cannula to carefully break up and remove excess fat cells in the treatment area until an ideal contour is achieved. In comparison to older methods, the tumescent lipoplasty technique that Dr. Boynton employs at our practice minimizes blood loss, which was one of the greatest complications of liposuction in the past.
Dr. Boynton also has considerable experience in safely performing "large-volume" liposuction (suctioning more than 5 liters of aspirate), as well as advanced training in laser liposculpting—though he no longer believes that laser liposuction is beneficial in the body area, in general. He has significant experience with revisionary cases and has found laser liposuction to cause a great degree of debility and scar tissue. Instead, Dr. Boynton does a lot of "equalization" contouring, which involves utilizing specialized cannulas to finesse-shape areas, sometimes with lower suction amounts. He has found that this technique is extremely powerful in correcting contour defects and subtle regions. Sometimes, he has to actually inject fat into the lower areas. These "spot" or "touch-up" liposuction treatments can be done easily in the office.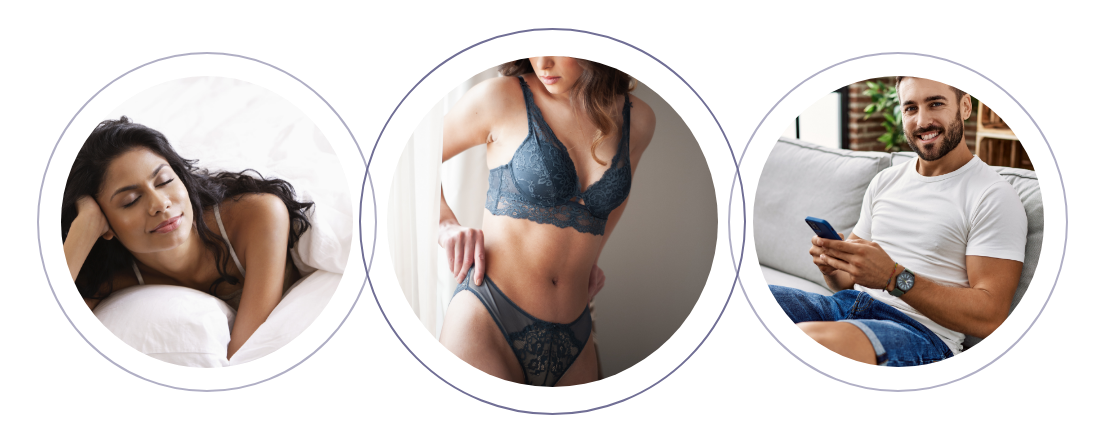 What Can I Expect from the Liposuction Recovery Process?
Following liposuction/lipocontouring, Dr. Boynton will place state-of-the-art compression garments that are to be worn for a specified period of time to aid in the healing process and help ensure the most optimal outcome for each patient. Some degree of swelling, bruising, and/or tenderness can be expected in the treated region(s), but these symptoms are temporary and should diminish gradually with time. Any discomfort experienced is usually described as mild to moderate and can generally be managed effectively with medication.
Most individuals feel comfortable enough to resume normal daily routines after a few days, though some of Dr. Boynton's patients are able to return to office jobs, school, and other non-strenuous activities after only one day away (depending on the number of areas treated and quantity of fat removed). In order to help avoid post-operative complications, Dr. Boynton recommends refraining from heavy lifting, vigorous exercise, physical sports, and all other strenuous activities for a minimum of four weeks.
What Are the Side Effects from Liposuction?
Pain is usually mild to moderate. The procedure is outpatient, and most patients take several days off of work, but some may return after only one day off. Depending on the amount of liposuction, the number of areas involved will determine bruising and swelling. Male liposuction patients typically bruise and swell slightly more than women, but the recoveries are very similar. The incisions are left open to allow the fluid to "drain" in the first few days after surgery, which facilitates recovery from swelling and bruising.
How Noticeable Are the Scars from Liposuction?
In addition to the many advantages offered by liposuction surgery as they pertain to effective fat reduction, this procedure is known for its ability to achieve one's goals without extensive visible scarring. In fact, many liposuction procedures result in residual scarring that is barely noticeable. The incisions necessary for liposuction are generally quite small and can typically be placed in areas that are rather inconspicuous. The exact nature of scarring from liposuction will depend on the regions of the body that are being treated and the extent of the procedure; however, Dr. Boynton's meticulous techniques combined with the small incisions frequently required for liposuction surgery often yield scars that are barely visible on the skin.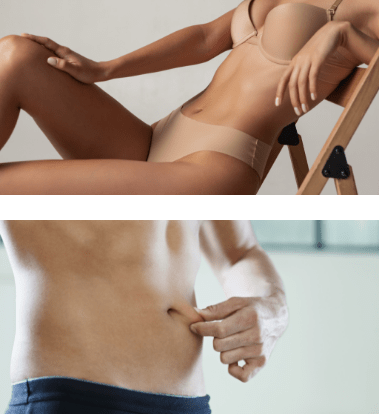 Are There Alternatives to Liposuction?
Recent advances in body contouring techniques have made new options available for patients who may not need invasive surgery to achieve their goals. Here at the practice of Dr. James F. Boynton, we offer state-of-the-art liposuction/lipocontouring alternatives such as the EXILIS Ultra 360™ non-surgical skin tightening and body contouring system. The EXILIS Ultra 360™ technique utilizes radiofrequency waves to enhance collagen and reduce small areas of excess fat in the specific body regions targeted for treatment.
While liposuction may be the more ideal option depending on each individual's unique concerns, these alternatives can be very effective treatments for the right candidates. Dr. Boynton can talk more with you about your options once he has evaluated you during the initial consultation.
How Much Does Liposuction Cost?
The total cost of liposuction is dependent on the individual patient's unique treatment plan; therefore, the price will not be the same for everyone. There are a variety of factors that go into the overall cost, including the extent of liposuction necessary to achieve the patient's goals, the number of areas being treated, the treatment locations, the surgeon's fee, the facility fee, and whether or not the procedure is performed at the office or another venue. For in-office liposuction, the most common "LIPO 360" scenario is liposuction in the upper and lower abdomen and waist/hips performed together—the total cost, including anesthesia, for that procedure is often approximately $6,000-$6,500. Sometimes, patients only need one area treated, which could be as little as $2,500 for a specific area; however, Dr. Boynton feels strongly that "aesthetic units" of the body should be approached as a unit together in order to get the most even shape and contour. As for neck liposuction, the cost typically starts in the range of $3,500-$4,500 and upwards. During your initial consultation, Dr. Boynton will design a customized treatment plan and go over it with you. Then, a member of our medical team will produce a cost estimate for the procedure which includes all expected fees. Our practice accepts a comprehensive array of payment methods and we work with CareCredit®, a plastic surgery financing agency that offers flexible monthly payment plans for qualified applicants. We will be happy to assist you with finding the way to pay for your liposuction procedure that is most convenient for your needs and budget.
Additional Liposuction FAQs
How long until I see the results?

60% at 3 weeks, 80% at 3 months, and final results are typically determined at 6 months.

How long do I have to wear the garments?

Special garments are typically worn 24 hours a day for 3 weeks, and then only at night for the following 3 weeks. Some patients may choose to wear them longer.

Will I need massaging?

We recommend post-lymphatic massages starting at two weeks. We have a team of highly trained lymphatic massage therapists that work with our patients after lipocontouring. This is an important adjunct to the procedure, patients enjoy this, and it improves the overall results.

How long do the incisions drain?

Typically for 2-3 days after the surgery.

Will I lose weight right away, or at all?

Lipocontouring, or liposuction, is about shaping the body, not about weight loss. Most patients will notice the reduction in their clothing size. Weight is variable. Often right after the procedure, patients will not see much—if any—change in weight. Many patients build muscle as they resume their exercise regimens after surgery, and they may even gain weight (because muscle weighs more than fat). Dr. Boynton gets his patients to concentrate on how they look, improvements in their clothing size, and how they feel—not on the scale.

When can I resume exercise?

Typically two weeks after surgery.

What if I have to come back for another procedure, how soon can it be scheduled?

A small percentage of patients will need a "touch-up" liposuction session for certain areas that may need further contouring. This depends on the area, amount of scar tissue, amount of fullness that was there to start with, etc. This can sometimes be done in the office, but other times it is best done as a quick outpatient surgery. Usually, we wait until six months to determine if this will be needed. Some patients require multiple "sessions" of liposuction from the start (usually two). In these cases, we can usually space them three months apart.

If I get liposuction, will the fat just go somewhere else?

No. This is completely an "urban legend." This is a common misconception that many people believe, but it is just not true. There is no doubt that if patients return to poor eating habits and sedentary lifestyles without exercise, they may "regain" weight in all the same places that were liposuctioned. There are still fat and fat cells in the places that were liposuctioned, just less of them. The results seen shortly after lipocontouring or lipoplasty are dramatic and very motivating. Many patients want to maintain them, and it motivates most individuals into new healthy exercise regimens—even when they never had one prior. Recent research has even shown some health benefits of "fat reduction" with liposuction.