Neck Lift Surgery and Minimally-Invasive Neck Rejuvenation Options
With an extensive selection of both surgical and minimally-invasive neck rejuvenation procedures, Dr. James Boynton can dramatically enhance the appearance of the neck and create a more youthful, contoured appearance. Plus, many of these treatments can be performed as convenient in-office procedures. That includes treatments such as neck liposuction and Suture Suspension Neck Lifting.
Dr. Boynton's state-of-the-art, in-office neck liposuction procedure can be an ideal option for many individuals who are experiencing a "double-chin" caused by excess fat collection in the neck. This treatment may also be the right option for patients who would like to diminish signs of jowls caused by fat deposits and enhance the contours of the jawline. Since neck liposuction can often be performed right here at our practice, the entire treatment process is typically much more convenient and efficient for our patients.
The Suture Suspension Neck Lift, which is another treatment option that can be performed here at our office, can help many individuals experiencing mild to moderate degrees of excess skin in the neck. This treatment may be recommended for patients who may not need a central neck lift (T-Z Plasty) to achieve their goals.
You can find more information on our neck rejuvenation options in the sections below. Dr. Boynton has been trained by some of the leading plastic surgeons and innovators in cosmetic enhancement of the face and neck, which has given him the skills necessary to successfully perform a wide variety of neck rejuvenation techniques.
The skin of the neck is often one of the first areas of the body to exhibit noticeable signs of age, which can cause many individuals to feel self-conscious about their appearance. Dr. Boynton can meet with you to evaluate your concerns and talk about treatments that can provide the best option for your unique needs and goals. With a customized treatment plan, our board-certified plastic surgeon can help you achieve effective neck rejuvenation with results that look natural.
Below, you will find descriptions of the many types of neck rejuvenation options available at our practice, from the least invasive treatments that can address concerns of a more moderate nature to more invasive procedures that can be helpful for patients affected by severe skin laxity. If you have any questions, or if you would like to schedule a consultation with Dr. Boynton, please contact our office today.
Explore Topics On This Page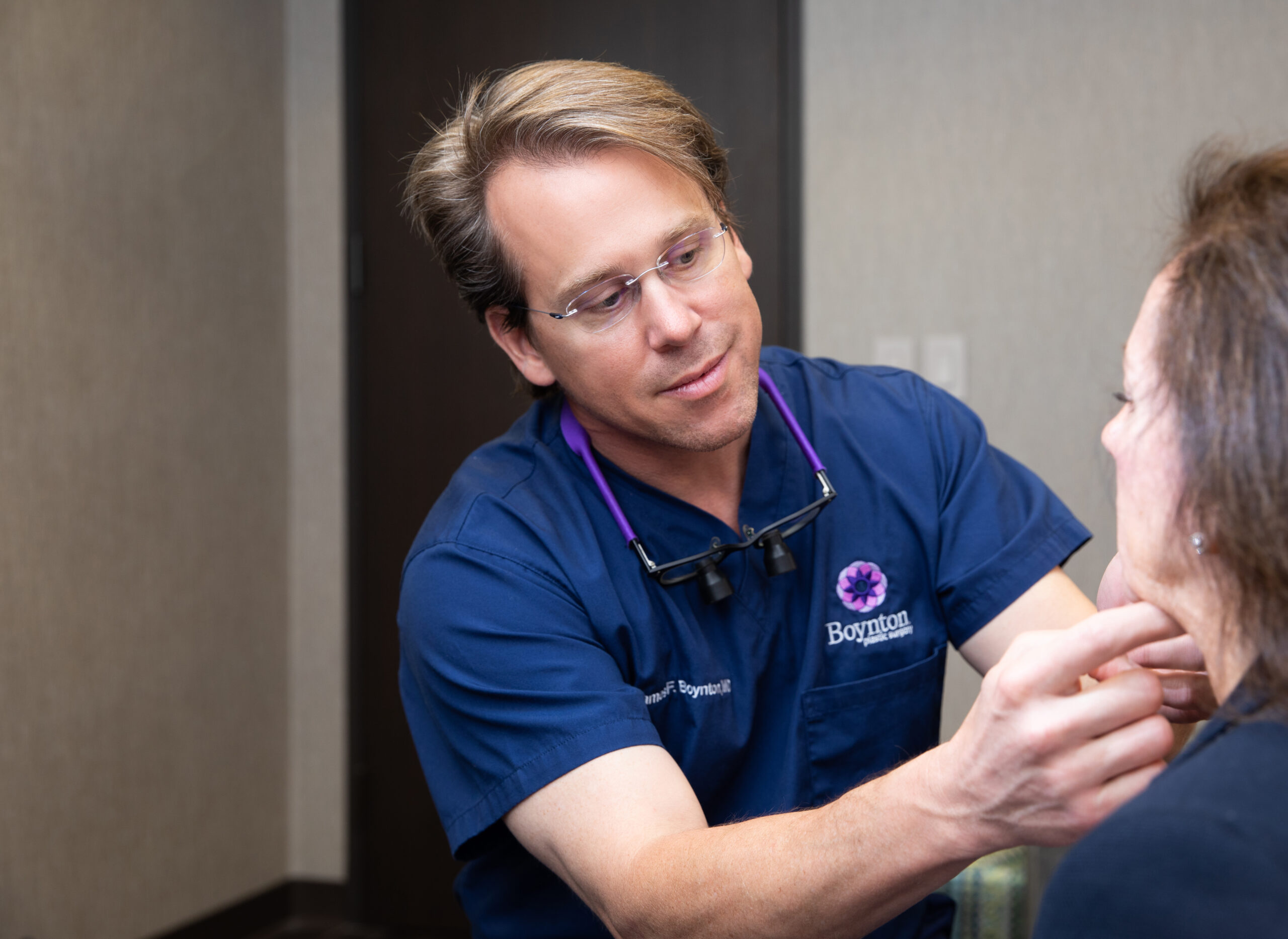 Suture Suspension Neck Lift
This is another less invasive neck lift option that is similar to the "Giampapa" Suture Suspension Neck Lift. This is a one-hour procedure done in the office (or in some cases under general anesthesia depending on the preferences of the patient) and involves a small incision under the chin and two small incisions behind the ears. The Suture Suspension Neck Lift utilizes a strong suture that is anchored into the muscles under the chin and then directed back behind the ear in the mastoid area where the tissues are quite strong for suture-holding. This pull can elevate the hyoid bone and sharpen the cervicomental angle at the neck without actually removing any skin. In essence, the skin redistributes. This suture can be added to a cheek lift procedure. It can involve direct excision of fat and even subplatysmal fat (fat under the muscle) and is often done in conjunction with a platysmaplasty (neck muscle tightening).
Central Neck Lift (Direct Neck Lift) - T-Z Plasty
A central neck lift (also known as a direct neck lift or a "T-Z Plasty") can be the best option for patients who have an extensive amount of sagging, inelastic skin affecting the neck. This type of concern is sometimes referred to a "turkey gobbler" because the looseness of the skin has such a prominent effect on the neck's contour. While a full facelift often includes a neck lifting component, a full neck lift can benefit many patients, both women and men, who may wish to significantly improve neck aesthetics but do not need or desire a facelift to accomplish their overall enhancement goals. For this advanced neck lift technique, Dr. Boynton trained under Dr. Thomas M. Biggs, who has written extensively on T-Z Plasty and is known as an expert on this technique.
A T-Z Plasty involves direct excision of excess fat and skin in the neck that is causing the concern. The excision is combined with what is known as platysmaplasty, which is a technique designed to tighten the underlying neck muscles. An incision will be made in the central part of the neck, allowing Dr. Boynton to remove the excess skin and fat and then tighten the muscles. The remaining skin is then redraped to provide a much smoother and firmer look. While there will be a scar from this treatment, Dr. Boynton uses meticulous suturing techniques to maximize the potential that the scar will be as light as possible.
Another major benefit of a T-Z plasty neck lift is that it can often be performed right here at our office with a local anesthetic rather than general anesthesia. This treatment can be a wonderful alternative for ideal candidates who do not need a full facelift with neck lift to successfully address their concerns.
Full Facelift/Neck Lift
Severe neck tissue laxity can also be addressed by a facelift/neck lift procedure. This state-of-the-art procedure addresses signs of age and inelastic skin in the midface and jawline in addition to concerns affecting the neck. With a facelift/neck lift, Dr. Boynton can provide the face with a more youthful appearance and the neck with dramatically enhanced contours and a firmer, smoother look and feel.
How Much Does a Neck Lift Cost?
At Boynton Plastic Surgery, the cost of a neck lift or neck rejuvenation procedure is dependent on the specific type of treatment you undergo and other factors associated with your customized treatment plan. The price of a Suture Suspension Neck Lift typically starts at about $6,500 and upwards, while a direct neck lift/TZ Plasty often starts at about $8,000-$9,000 and upwards, depending on the treatment's complexity. The cost of other neck rejuvenation options will largely depend on whether they do or do not involve significantly invasive surgery.
The total price of neck rejuvenation will vary among patients according to their individual needs, the extent of treatment necessary, whether this treatment is being combined with other procedures, and other associated factors. Once Dr. Boynton has evaluated you during the initial consultation and a customized treatment plan has been created, a member of our team will produce an estimate of the total cost of your neck lift procedure, which will include all expenses. Our practice accepts numerous payment methods, and we work with a reputable plastic surgery financing agency that offers qualified applicants affordable plans to make payment for treatment as convenient as possible.
If you have questions about the many neck rejuvenation procedures available at our practice, or if you would like to schedule a consultation with Dr. Boynton, please contact Boynton Plastic Surgery in Houston today.