Restylane®

The Restylane® family of injectables are hyaluronic acid fillers FDA-approved to smooth and soften smile lines (nasolabial folds), marionette lines, and lines about the corners of the mouth. These dermal fillers can also be effective for lip augmentation. At our practice, Houston plastic surgeon James F. Boynton, MD offers the full assortment of Restylane® products, including Restylane-L®, Restylane® Kysse, Restylane® Lyft, Restylane® Silk, Restylane® Refyne, and Restylane® Defyne. After selecting the most appropriate option(s) for your unique needs and goals, we can skillfully and artistically administer Restylane® injections to achieve the look you desire with beautiful, natural-appearing results.
To learn more about each Restylane® product, we invite you to read through the information provided in the sections below. If you have any questions, or if you are considering treatment and wish to schedule a consultation, please feel free to reach out to us online or by telephone today.
Explore Topics On This Page
Restylane-L®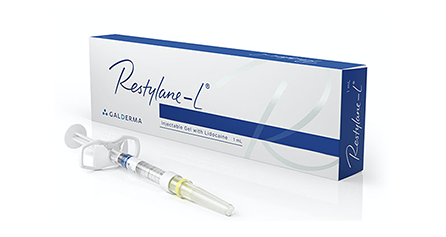 Restylane-L® is an excellent hyaluronic acid filler option for adding predictable, precise volume in the smile lines, oral commissures, and marionette lines, as well as improving and/or restoring lip volume. Due to its soft, thin consistency, Restylane-L® is also a great option for filling hollow-looking tear troughs underneath the eyes where the skin tends to be very delicate. The smooth formula helps to create subtle volume enhancement for an exceptionally natural appearance.
Restylane-L® includes lidocaine in its formula to lessen discomfort to the patient during treatment. Typically noticeable soon after injection, Restylane-L® results generally last about four months, sometimes longer.
Restylane® Kysse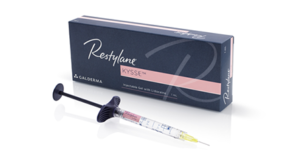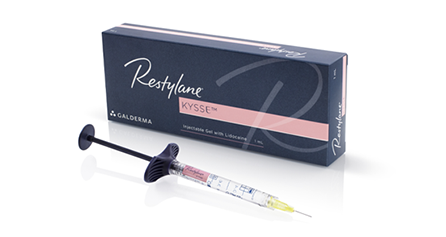 Restylane® Kysse is an exciting addition to the Restylane® product line. This filler is FDA-approved for lip enhancement and can be an ideal treatment option for patients who would like to improve lip volume and contour. Restylane® Kysse can also diminish signs of wrinkles around the mouth to create smoother skin and a more youthful look in this area. One of the aspects of Restylane® Kysse that sets it apart from other filler options is its innovative composition: the injectable solution includes a proprietary component called XpresHAn Technology™, which helps the hyaluronic acid particles bind themselves together in the lips. This effect allows them to stretch, then return to where they were previously. The process is important because it can essentially help the Restylane® Kysse solution "mold" to the tissue and produce a more natural appearance—and a more natural feeling—when smiling, talking, and generally making an expression. Ultimately, Restylane® Kysse is designed to create results that look natural and feel more like natural lip tissue. Additionally, outcomes have the potential to last nearly a full year.
Restylane® Lyft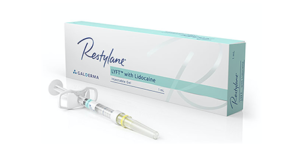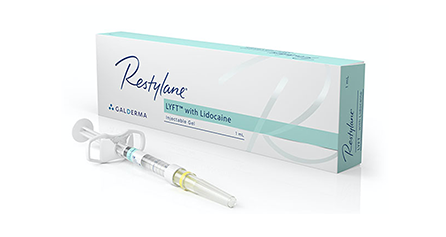 Restylane® Lyft can be an ideal option for individuals who are looking to add volume to the mid-facial area. The innovative Restylane® Lyft solution can restore fullness to "sunken" cheeks, reduce signs of acne scars, and even be useful for addressing signs of age on the hands.
Like Restylane-L®, a lidocaine element is included in the Restylane® Lyft solution to minimize any potential discomfort during the injection. Because of its larger molecule of hyaluronic acid, Restylane® Lyft takes the body a bit more time to degrade, so it may last an average of up to six months.
Restylane® Silk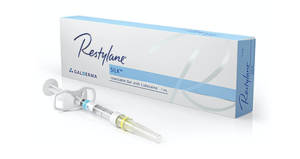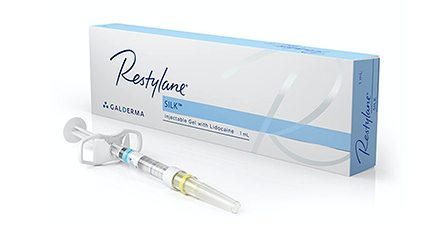 Similar to Restylane® and Restylane® Lyft, Restylane® Silk is composed of a hyaluronic acid-based solution designed to subtly add volume to targeted areas of the face. This relatively new dermal filler can often be an excellent option for enhancing the appearance and fullness of the lips while also helping to smooth fine lines above the mouth with exceptionally natural-looking results in patients 21 and older.
The unique Restylane® Silk formula includes lidocaine to help minimize any potential discomfort, and the filler's volumizing effects are often noticeable soon after treatment. In most instances, two treatments scheduled about two weeks apart are necessary to achieve an optimal outcome. For the majority of patients, Restylane®Silk has been known to last approximately six months, if not longer.
Restylane® Refyne and Restylane® Defyne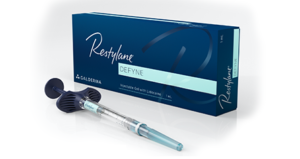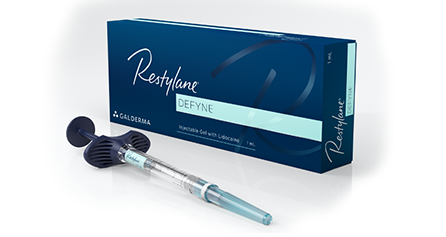 Approved by the FDA for individuals older than 21, Restylane® Refyne and Restylane® Defyne are uniquely designed to fill moderate to severe wrinkles, folds, and creases while enabling patients to still maintain natural facial movements and expressions. In general, Restylane® Refyne is an ideal choice for smoothing facial lines of modest depths, and Restylane® Defyne is a great option for softening deeper folds and creases.
To diminish any possible discomfort during treatment, the Restylane® Refyne and Restylane® Defyne formulas contain lidocaine that works to help desensitize the targeted area(s) upon injection. Following treatment, most patients will notice results right away, and the volumizing effects have been known to last up to twelve months—if not longer—in many cases. Once the results start to fade, touch-up injections can be administered to maintain one's desired outcome.
What Does Restylane® Treatment Involve?
We take great care to perform each Restylane® treatment in a way that yields both satisfactory and natural-looking results. The Restylane® solution will be delicately and precisely injected into the targeted areas with a fine needle. Many Restylane® products already include a numbing agent to maximize comfort during treatment. The entire procedure typically takes approximately 15 to 30 minutes, depending on the size and number of areas being targeted for treatment.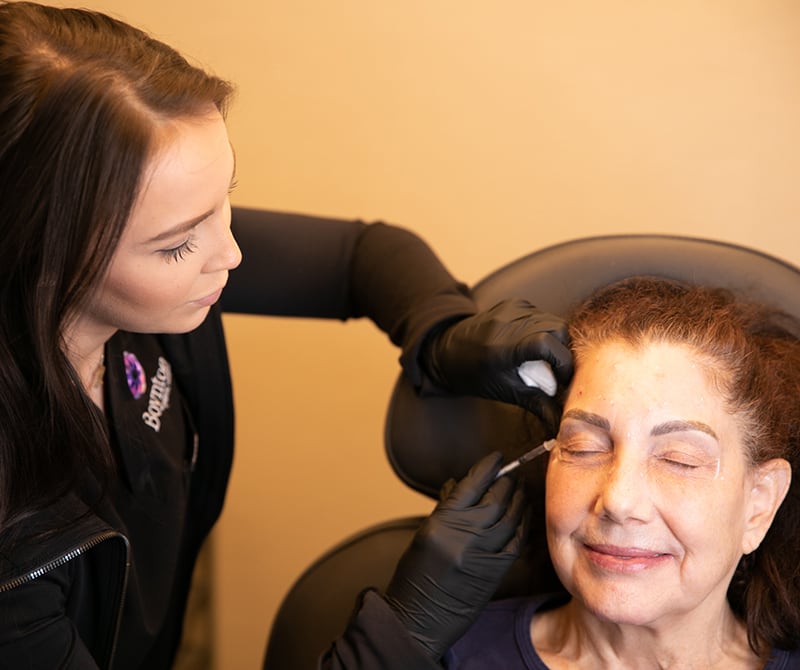 Are There Side Effects to Restylane® Injections?
The most frequently experienced side effects of Restylane® treatment include swelling, bruising, and redness surrounding the injection sites; however, these conditions are typically of a mild degree and should dissipate relatively quickly. Most individuals will not require a recovery period following Restylane® procedures, and should be able to immediately resume normal daily activities.
How Much Does Restylane® Cost?
Treatment with Restylane® Kysse, Refyne, and Defyne products at our practice typically start at approximately $750 per cc or syringe, and treatment with Restylane® Lyft usually starts at $850 per syringe. Please keep in mind that the cost of each treatment varies among patients depending on the specific type of Restylane® product utilized, the amount of filler necessary to achieve individual goals, and other factors. All of our Restylane® treatments are customized for each patient's unique needs, and a friendly member of our team will provide you with a total cost estimate once your treatment plan is developed during the initial consultation. In addition to accepting a comprehensive range of payment methods, Boynton Plastic Surgery accepts financing arrangements through CareCredit®. This reputable healthcare lending agency offers a variety of budget-friendly payment plan options for patients who qualify. We will be happy to answer any questions you may have about the best way for you to pay for your Restylane® treatment.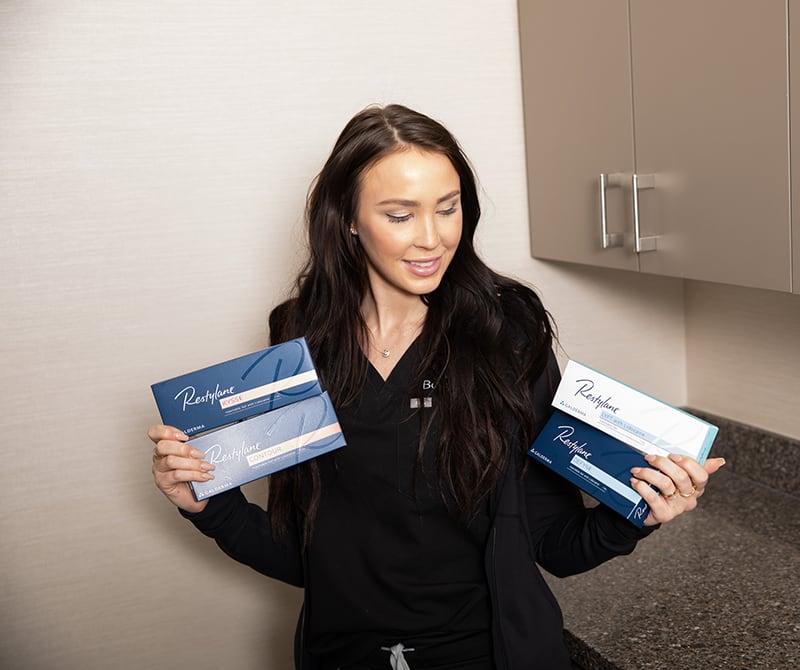 More Like Restylane®
Along with the Restylane® family of fillers, Dr. Boynton offers JUVÉDERM® products, RADIESSE®, fat transfer, and numerous other injectable treatments designed to non-surgically reduce signs of aging. During a consultation at our practice, he can help you determine the most appropriate injectable(s) for your specific needs and goals. Simply contact our practice today to schedule an appointment.