Our board-certified plastic surgeon, Dr. James F. Boynton, and his experienced team of aesthetic professionals offer advanced TCA chemical peels around the mouth and on the face to complement facial rejuvenation. TCA chemical peels work extremely well in the perioral region of the face and it is the best way to improve the appearance around the mouth in patients that have "smoker's lines." This type of peel has less risk of hypopigmentation and hyperpigmentation as compared to phenol peels, which have more risk associated. Light TCA peels can even be done in the office with cooling fans. Other patients elect to have this performed in conjunction with a facelift in order to provide some improvement and balance to the face in the perioral region.
The advanced PCA SKIN® line of TCA chemical peels form the backbone of our facial peel options here at Boynton Plastic Surgery. The sections below illustrate many treatments in the selection of PCA SKIN® options we provide, along with brief descriptions of each solution. If you have questions, or if you are ready to schedule a consultation to talk more about the treatment that may be best for your needs and goals, please contact our practice today. We will be happy to evaluate your skin and create a customized treatment plan.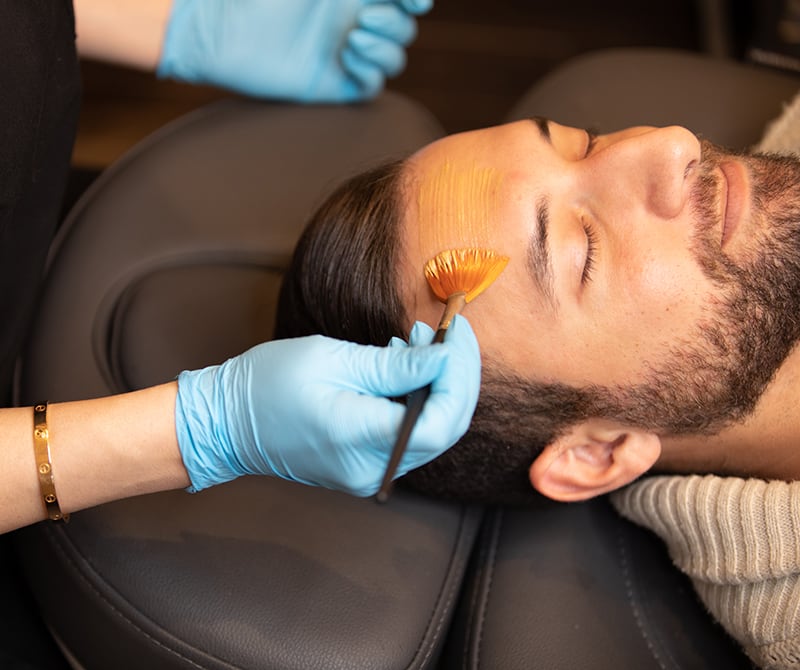 PCA SKIN® Chemical Peel Options
PCA SKIN® is a leader in the field of state-of-the-art, science-backed rejuvenating peels designed to provide healthier, more youthful, and refreshed-looking skin. The company was founded more than three decades ago and its formulas are meticulously researched and developed to produce an extensive selection of advanced blended peels. These treatments can ultimately provide aesthetic advantages to patients of a wide range of skin types.
NoPeel Peel
The NoPeel Peel is somewhat of an "entry-level" chemical peel. This option can help diminish impurities from both surface and deeper layers of the skin while serving as an ideal solution for many individuals who have sensitive skin. The NoPeel Peel can provide gentle exfoliation, improved skin tone, and other benefits without producing excessive redness or inflammation right after the treatment.
PCA Peel® (PCA® Jessner's Peel)
A Jessner's Peel is the name for a special chemical peel formulated to improve the health and appearance of the skin on a deeper level. PCA® created enhanced, modified versions of the Jessner's Peel to enable more individuals with a greater variety of skin types and skin care needs to benefit from this remarkable treatment option.
The following treatments represent three different types of PCA Peels® available at our practice:
PCA Peel® – Hydroquinone Free
This peel is an enhanced version of the Jessner's solution and can be a good option for individuals who have sensitivities or allergic reactions to hydroquinone (an agent that can promote skin-lightening). Patients with sensitive skin, darker skin, and those who are prone to breakouts may benefit from this advanced peel that can help produce a brighter, more even skin tone.
PCA Peel® with Hydroquinone
The PCA Peel® with Hydroquinone is another enhanced Jessner's solution and can be ideal for individuals who do not have hydroquinone sensitivity and are seeking ways to improve skin tone. This option can provide a clearer complexion while moisturizing the skin.
PCA Peel® with Hydroquinone and Resorcinol
This peel contains the most potent of all enhanced Jessner's peel solutions in the PCA SKIN® line. It can be particularly beneficial for many patients who have thicker, more resilient skin types that tend to produce excessive amounts of oil. The PCA® Peel with Hydroquinone and Resorcinol can also be ideal for areas affected by sun damage, active or cystic acne, and skin that is oily under the surface but dry on upper layers. Patients who need a deeper skin peel may be good candidates for this treatment.
Sensi Peel®
The Sensi® Peel is a universal 6% TCA solution that can enhance skin texture and tone while giving it a brighter, more refreshed look. It can also help reduce signs of fine lines and wrinkles, and often serves as an ideal option for patients with particularly sensitive skin.
Smoothing Body Peel® and Pre-Peel Accelerator Mask
This two-step peel begins with the Pre-Peel Accelerator Mask to help soften the skin and enhance surface hydration. Then, the Smoothing Body Peel® solution is applied to exfoliate and help bring forth healthier skin layers to create a renewed appearance. This option can be a good solution for individuals who would like to improve skin tone and signs of hyperpigmentation, as well as those who would like to prevent active acne and diminish signs of mild acne scarring.
Ultra Peel®
The Ultra Peel® is primarily designed to reduce signs of wrinkles, fine lines, and other indicators of the aging process; however, it can also help with a range of other common skin conditions. With the Ultra Peel®, many patients can effectively diminish signs of aging and dark spots while achieving improved skin tone and a clearer complexion.
MD Peel (CCI3)
This medium-depth chemical peel can be helpful for patients with very resilient skin. The MD Peel can only be performed by a physician and is designed to provide significant improvement and rejuvenation of the skin. Individuals who are looking to minimize signs of wrinkles and fine lines and achieve a more even skin tone may be good candidates for this peel.
6% Pure Retinol Peel
The 6% Pure Retinol Peel is a more active retinoid treatment and can provide very fast and significant skin rejuvenation. This peel can only be administered by a physician. It can be a suitable option for patients who are interested in obtaining smoother skin texture in addition to extreme rejuvenation of skin affected by fine lines and wrinkles and/or discoloration. Individuals with normal to resilient skin are often good candidates for the 6% Pure Retinol Peel.
Contact Our Office
For more information about laser treatments and chemical peels, or if you would like to schedule a consultation with Dr. Boynton, please contact us today.