In our youth, approximately 2–3mm of our upper teeth typically show when the mouth is relaxed and the lips are slightly separated. As we age, however, the upper lip tends to gradually lengthen, decreasing "tooth show" until the upper teeth are fully hidden. In addition, the upper lip often begins to curl inward, losing much of its fullness and pout. Fortunately, these common aging symptoms can generally be treated with a lip lift performed by Dr. James F. Boynton, our board-certified plastic surgeon in Houston. Dr. Boynton typically utilizes the specialized "endonasal lip lift" technique for these procedures, which can produce excellent aesthetic results with virtually unnoticeable scarring.
Explore Topics On This Page
What Is a Lip Lift?
A lip lift—also referred to as an upper lip lift—is a cosmetic procedure designed to improve the appearance of an elongated upper lip by elevating its position, regaining youthful tooth show, and enhancing natural pout. When performed by a skilled and experienced plastic surgeon like Dr. Boynton, recent advances in lip lifting techniques, such as the endonasal technique, allow for an exceptionally natural-looking rejuvenation with virtually no visible scarring for patients both young and mature.
What Are the Benefits of a Lip Lift?
While the physical effects of lip lift surgery are relatively subtle, the benefits are numerous. These can include:
Reduction of the space between the nose and mouth
Greater tooth show
Improved pout and sensuality
Increased upper lip visibility and volume
Enhanced definition of the Cupid's bow
Rejuvenation of both the lips and entire lower face
Along with these benefits, a lip lift can also potentially reduce the need for dermal fillers in the lips—which can sometimes create an "over-plumped" or "unnatural" look when performed improperly—as well as improve the appearance of wrinkles and lipstick bleed lines.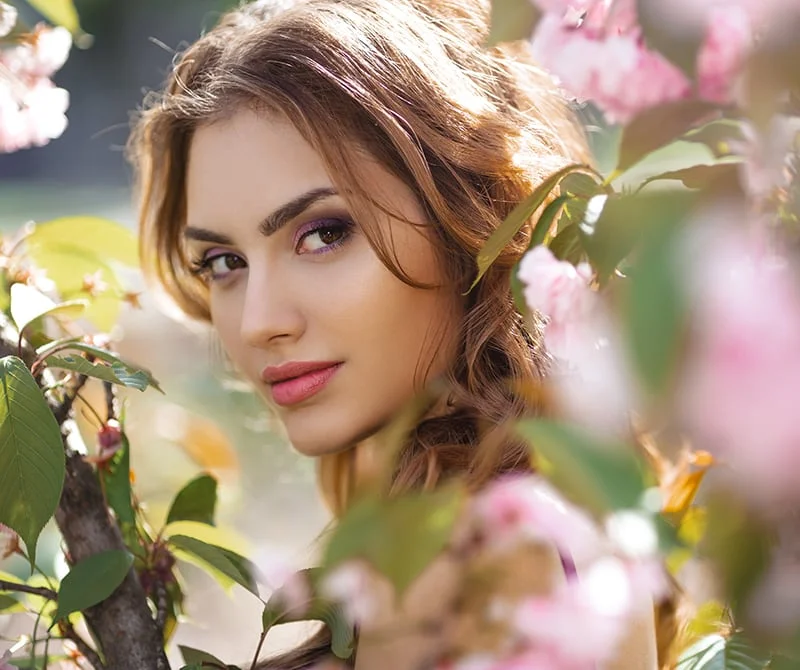 The Endonasal Lip Lift Technique
Dr. Boynton typically employs a very special approach called the endonasal lip lift technique for these procedures. For many other lip lift treatments, the surgeon applies a "bullhorn," "gullwing," or straight-line technique to enhance the upper lip; however, Dr. Boynton believes those methods may increase the risk of producing a noticeable and potentially unsightly scar. This is why Dr. Boynton prefers to utilize the endonasal lift lip technique developed by Dr. Peter Raphael. Dr. Boynton travelled to Dallas many times so that he could be personally trained by Dr. Raphael in this innovative approach, which Dr. Boynton believes is by far the best way to perform this treatment since it is designed to result in virtually invisible scarring.
The endonasal lip lift technique is essentially a modified version of the subnasal lip lift approach. One of its major benefits is that it addresses a common concern among patients considering this procedure: the fear of visible scarring. This technique creates endonasal flaps of tissue and involves special suturing methods to decrease the potential for prominently visible scarring. The incision-elevated flaps carry into the nostril base and take tension off the incision––that way, the incision is essentially "invisible" and allows for significant improvement and elevation / rotation to the central upper lip. Additionally, the endonasal technique can effectively increase the lip's "pout" and enhance the visibility of the vermillion (the reddish areas of the lip) and the upper teeth.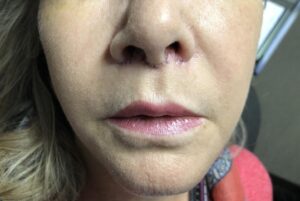 The following image represents a typical result from an office-based lip lift at six days just prior to suture removal. You can already appreciate the improvement and lift. There is really not much of any bruising or swelling typically at this point following the surgery. You can appreciate the "endonasal path" of the incision (which means that it undulates inside the base of the nose) and allows it to end up being totally hidden when the incision line fades over time.
How Is the Lip Lift Procedure Performed?
Lip lift surgery is typically performed in-office using local anesthesia to decrease any potential discomfort. To begin the procedure, Dr. Boynton will make a tiny incision hidden in a natural crease along the base of the nose. With the endonasal lip lift technique, Dr. Boynton will create skin flaps under the nose and utilize a special suturing technique that can elevate and evert the upper lip while reducing tension. This technique can ultimately minimize any potential scarring while producing noticeable improvement in the lip's fullness and "pout." If the corners of the patient's mouth are downturned, Dr. Boynton can also conduct what is called a "corner lip lift," if desired. To do this, he will remove a tiny amount of skin near the corners of the lips, restoring a more youthful neutral or slightly upturned angle.
The entire procedure usually takes about 30 minutes or less to complete, and as an in-office treatment, patients are able to return home following surgery.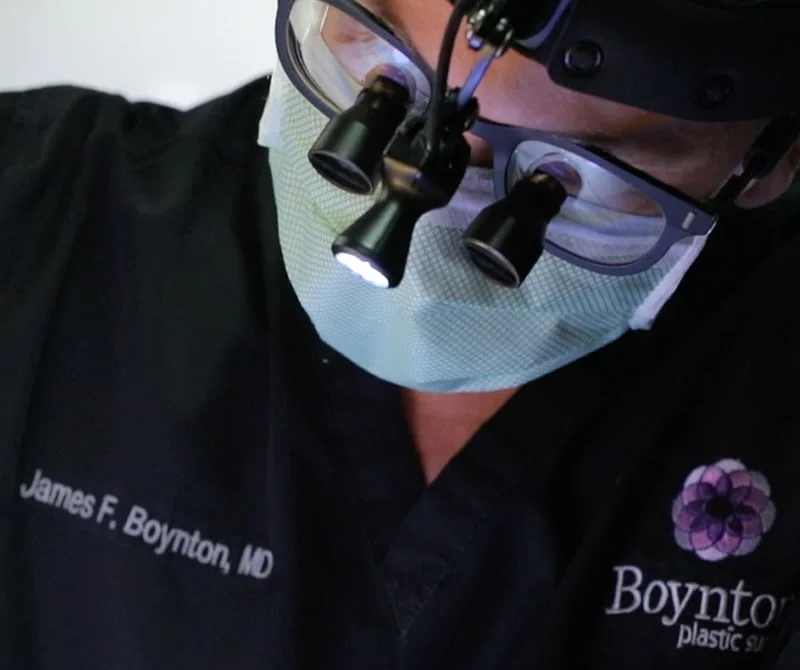 What Is Recovery from a Lip Lift Like?
Immediately after a lip lift, most individuals will experience some degree of swelling and/or bruising in the treatment area, but these symptoms should gradually resolve as time passes. Though pain is rare, any tenderness or discomfort within the first couple of days can be alleviated with narcotic medication. To help promote an ideal outcome, Dr. Boynton typically advises patients to avoid opening the mouth too widely for about a week, as doing so may place excessive tension on the treated region and jeopardize one's final results. The majority of individuals are able to return to office jobs, school, or other non-strenuous daily routines after about two to five days, though strenuous activities should not be resumed for several more weeks to ensure the healing process is complete.
Will I Have a Lip Lift Scar?
In all surgeries, Dr. Boynton takes great care to ensure incisions are made as discreetly as possible. By hiding the lip lift incision in a natural crease below the nose, the resulting scar should be virtually undetectable once it reaches its final appearance. To help further reduce the visibility of scarring, he utilizes incredibly meticulous suturing techniques, as well as provides specific scar management instructions to follow throughout the healing process. With proper care and adherence to Dr. Boynton's recommendations, patients usually have no issues with lip lift scarring.
Contact Boynton Plastic Surgery
To learn more about lip lift surgery, or if you wish to meet with Dr. Boynton in person to discuss an individualized treatment plan, please feel free to contact our practice today to schedule a consultation.