Clear + Brilliant™ Laser Skin Renewal
When you are in your 20s and 30s, one of the last things you want to think about is premature signs of age starting to appear on your skin. Fortunately, Houston plastic surgeon James F. Boynton, MD offers the innovative Clear + Brilliant® laser—an FDA-approved, non-surgical laser skin rejuvenation treatment designed to help younger patients renew their skin and keep replenishing healthy cells to further delay noticeable signs of age. Our practice utilizes both the original Clear + Brilliant® handpiece as well as the advanced Perméa handpiece, which combines laser rejuvenation with topical antioxidants to give your skin even greater aesthetic renewal.
Benefits of Clear + Brilliant® Laser Skin Rejuvenation
Deep fractional and CO2 laser skin resurfacing can be of great benefit for many people who are experiencing wrinkles, hyperpigmentation, or sun damage; however, these more invasive laser options may not be necessary for younger patients who are just beginning to notice early signs of age or for those who would like to keep their skin looking fresh and healthy for years to come. As a "baby" fraxel laser that is considered gentler than deep fractional and CO2 lasers, Clear + Brilliant® can often be an excellent option for these individuals seeking preventative and/or maintenance skin treatment. Key benefits can include:
Improvement of tone and texture
Improvement in areas affected by mild discoloration
Minimization in the visibility of pores
Reduction in early-onset signs of aging
Enhancement of overall skin radiance and smoothness
The Clear + Brilliant® laser treatment can be performed in a number of body areas— including the face, neck, hands, and chest—and it can be an ideal procedure for both men and women with a variety of skin types.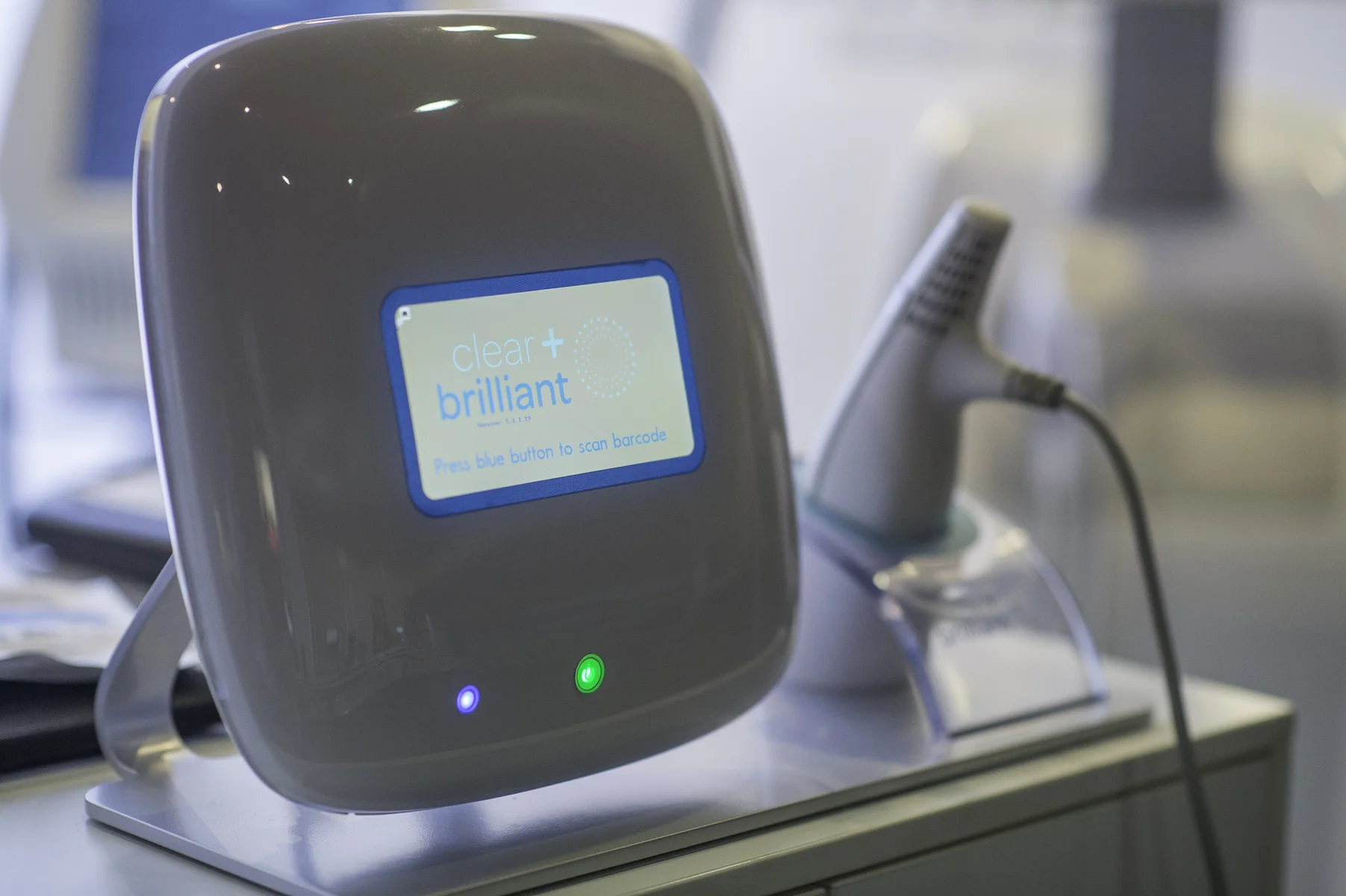 The Clear + Brilliant® Laser Procedure
The Clear + Brilliant® procedure involves the gentle application of laser energy to areas of skin you would like to rejuvenate. Unlike more invasive laser treatments, Clear + Brilliant® penetrates only the surface layers of skin, getting rid of damaged skin cells and replacing them with healthier tissue. The Clear + Brilliant® laser is designed to stimulate your skin's natural collagen so that it continues to grow healthy skin layers long after the treatment process.
The entire procedure typically takes only about 20 to 30 minutes to complete, depending on the extent of treatment. While there may be some temporary redness or swelling in the target areas after the procedure, most patients require little to no recovery time after Clear + Brilliant® laser treatment.
Many patients are able to see positive results almost immediately after the procedure; however, the best effects typically occur after a series of three or four Clear + Brilliant® laser treatments. Results can often be maintained with a good skin care regimen and an occasional touch-up laser treatment.
Dr. Boynton will meet with you for an initial consultation to evaluate your needs and explain all aspects of Clear + Brilliant® laser skin renewal.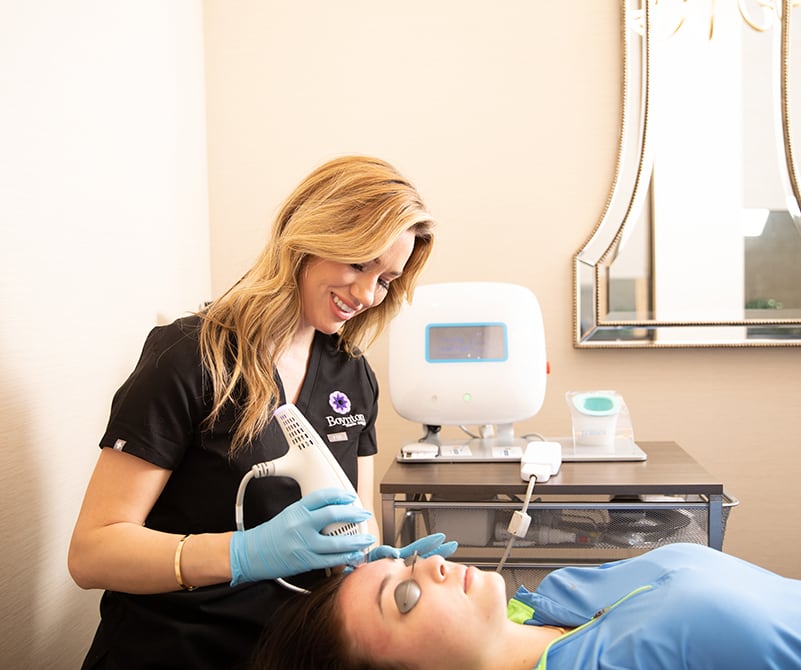 Clear + Brilliant® Perméa
With the new Clear + Brilliant® Perméa treatment, you may be able to attain even greater aesthetic benefits. The Perméa handpiece used in the procedure is designed to enhance the permeability of your skin and brighten skin tone. Studies have shown that applying certain topical antioxidants, such as SkinCeuticals® C E Ferulic®, immediately after treatment greatly improves the look of the skin, helping to improve signs of age, hyperpigmentation, and other issues.
More Like Clear + Brilliant® Laser Skin Renewal
In addition to Clear + Brilliant®, Dr. Boynton offers a variety of other minimally-invasive skin renewal procedures. To learn more about these options, visit our page on non-surgical treatments.
Contact Boynton Plastic Surgery
For more information on Clear + Brilliant® laser skin renewal, or to schedule a consultation here at our practice, please contact Boynton Plastic Surgery today.