Breast Lift
A breast lift, or mastopexy, is essentially a "lift" of the nipple-areolar complex relative to the crease underneath the breast. This provides an "uplifted" appearance to patients with sagginess or droopiness in the breast that often occurs after pregnancy or with changes in weight.
James F. Boynton, MD, our board-certified plastic surgeon, is highly experienced in breast lift surgery and has helped numerous women rejuvenate the appearance of their breasts with this popular cosmetic procedure. After assessing your unique needs and listening to your aesthetic goals, Dr. Boynton can formulate a customized treatment plan that elevates the breasts and helps you regain a more youthful figure with exceptionally natural-looking results.
To learn more about mastopexy, we encourage you to view the educational videos and read through the information provided on this page. If you have any questions, or if you would like to schedule a breast lift consultation with Dr. Boynton, please do not hesitate to contact our practice by phone or email today.
What Are the Benefits of Breast Lift Surgery?
Over time, a woman's breasts can begin to droop or sag due to a variety of different factors, including pregnancy, breastfeeding, notable weight fluctuations, genetics, or simply the natural aging process. Depending on the unique needs and goals of the patient, breast lift surgery can help:
Correct tissue drooping/sagging and raise the breasts for a more youthful look
Eliminate excess skin and tighten remaining tissues
Recontour breast tissue for an enhanced shape and improved symmetry
Resize/reposition the nipple-areolar complexes for a more proportionate/desirable appearance
Restore the breasts to a more natural, uplifted position on the chest
Reduce one's reliance on heavier bras needed for support
Increase the number of tops and swimsuits that fit properly, including some that could not have been worn previously
Significantly improve how one feels about herself from both a physical and emotional standpoint
For individuals who are experiencing volume loss in the breasts in addition to tissue drooping, mastopexy can also be combined with breast augmentation to help increase fullness and restore the breasts to their former size and contour. This combination procedure—known as a breast augmentation with a lift or augmentation-mastopexy—can also be a great option for those who wish to achieve a larger cup size than they had originally.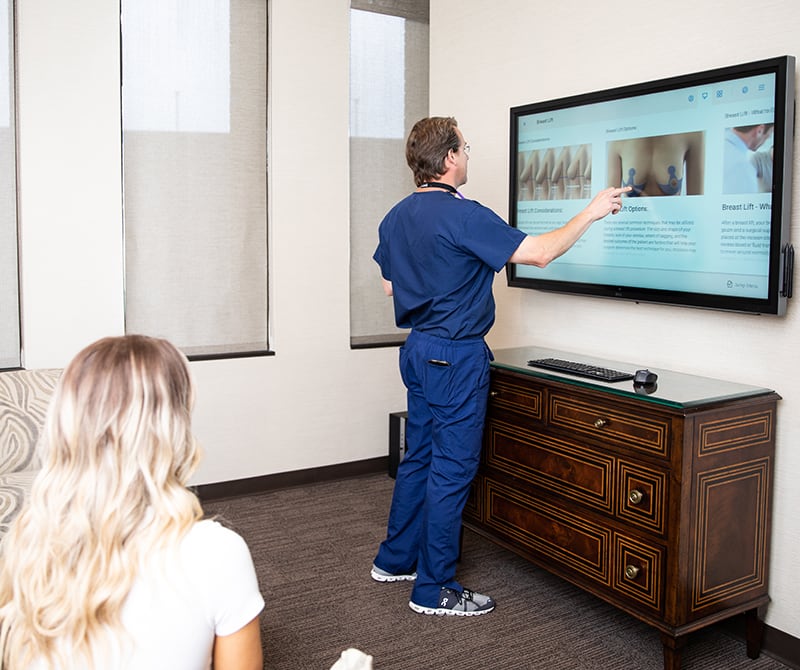 Degrees of Breast Ptosis
There are varying levels of sagginess, medically referred to as ptosis, that can affect the breasts. These degrees of breast ptosis are primarily measured by the significance of the reduction in skin elasticity and weakened supportive breast tissue, as well as how low the breasts may be sagging. The distinctions are set by where the breasts are in relation to the inframammary fold (the crease where the lower area of the breast meets the chest) and the position of the nipples. Degrees of breast ptosis are characterized by: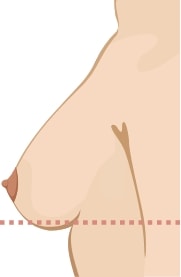 Pseudoptosis
Also referred to as glandular ptosis, pseudoptosis is the mildest form of breast sagging. At this stage, the breasts fall just below the inframammary fold while the nipples are above or slightly above the level of the fold.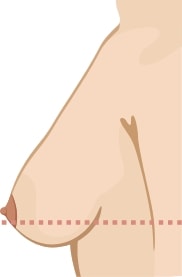 Grade I Ptosis
Still a milder form, Grade I Ptosis is when the nipples are right at the level of the fold and breasts sag slightly more than the previous phase.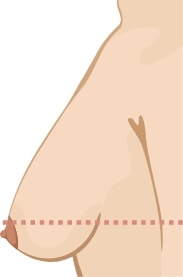 Grade II Ptosis
During the second phase, the nipples will droop below the level of the fold and breasts are now sagging at a more moderate degree.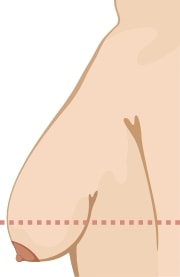 Grade III Ptosis
The last grade of ptosis produces the most prominent effects, in which both the breasts and nipples sag below the fold and the nipples point at a downward angle.
During your initial consultation, Dr. Boynton will evaluate the level of ptosis and condition of the skin and tissues to provide a customized treatment plan. He can also discuss other factors, such as any volume loss that has occurred, you might wish to address.
What Does the Breast Lift Procedure Involve?
The incision for breast lift surgery is essentially the same as breast reduction, without removing any or very little "internal" tissue. The areolas, which are usually dilated and enlarged, are made a bit smaller—this incision fades away around the nipple. There is a vertical incision in the lower aspect of the breast, and an inframammary crease incision that hides in the breast fold. Dr. Boynton typically performs a medial or superior pedicle to elevate the nipple. He feels this leads to a better and longer-lasting breast shape relative to the older inferior pedicle technique that is still very common. In some patients, a lift alone will not be enough, and an implant must be used at the same time. Dr. Boynton has advanced training in augmentation-mastopexy, which is the technique of performing a lift and adding a breast implant simultaneously.
There are some patients that do not want an implant, and in some cases, Dr. Boynton can perform an "auto-autologous" breast lift. Using this approach, the lower central area of breast tissue is "internalized" like a small implant with the breast draping around and over to create an uplifted, round shape.
What Can I Expect During Recovery from Breast Lift Surgery?
Following breast lift surgery, most patients can expect some minor swelling, bruising, and/or tenderness in the breasts, though these symptoms should gradually subside over time. Significant pain is very rare after the procedure, and the majority of individuals do not require anything more than over-the-counter medication to relieve potential discomfort. In fact, many of Dr. Boynton's patients do not need pain medicine at all.
Showering is permissible the day after surgery, and patients are encouraged to get up and walk around at this time. Most non-strenuous activities—such as office jobs and/or light exercise—can often be resumed within a couple of days, but any heavy lifting (anything over 10 pounds) or vigorous physical activity should be avoided for at least two weeks to reduce the risk of complications.
What About Scarring from Breast Lift Surgery?
All patients form "scars." Scars are simply the lines where skin is "sewed" together. The thickness, width, character, and pigmentation of those lines can vary with respect to the patient's demographics, heritage, and genetics. Representative examples of many results at approximately six weeks after surgery are available for viewing in Dr. Boynton's breast lift photo gallery of cases. Even patients that have a genetic risk of keloid scarring have been happy with their results because they are able to find more clothing that fits properly and they routinely feel good about themselves.
How Long Do Breast Lift Results Last?
By surgically tightening the breast tissue and removing excess skin, a breast lift procedure should be able to provide long-term results lasting many years. With that said, the natural aging process will continue over time, so being mindful of precautions that can help prolong your results may help to further extend your restorative outcome. Some suggestions include wearing a supportive bra, maintaining a stable weight and avoiding weight fluctuations, refraining from smoking, avoiding excessive sun exposure, and using proper SPF sunscreen. All of these safeguards are meant to help care for the newly restored skin elasticity and protect from premature aging.
Will I Be Able to Breastfeed After a Breast Lift?
The best answer Dr. Boynton can give for this question is that you have to prepare yourself either way. Many feel it's like flipping a coin… you might be able to and you might not. A 50/50 chance either way is the best "scientific" answer that we have in plastic surgery on this question. You have to prepare yourself that it may not be possible. It is also important to point out that many patients who never had surgery are unable to breastfeed just because of their anatomy, for whatever reason. In Dr. Boynton's experience of almost 15 years in practice, it seems to be slightly better than 50 percent that can breastfeed. Dr. Boynton does not recall a patient ever regretting doing a lift before pregnancy. The breast architecture (shape and size) will certainly change in terms of tissue, volume, and possible expansion by some metrics with each pregnancy. Please discuss your wishes regarding future breastfeeding with Dr. Boynton during the initial consultation.
Is a Non-Surgical Breast Lift Possible?
Despite various claims of natural ways to achieve a breast lift, such as chest exercises or firming creams, surgery remains the only reliable solution to diminish the excess, inelastic skin that is associated with breast ptosis. Although exercises may strengthen pectoral muscles and tighten the general area, there is no scientific proof that alternative methods can lift the breasts to a higher, more youthful position compared to the effects of restructuring the internal makeup of the glandular and fat tissues. However, exercises can be a helpful way to maintain a healthy weight and contribute to the longevity of your mastopexy results.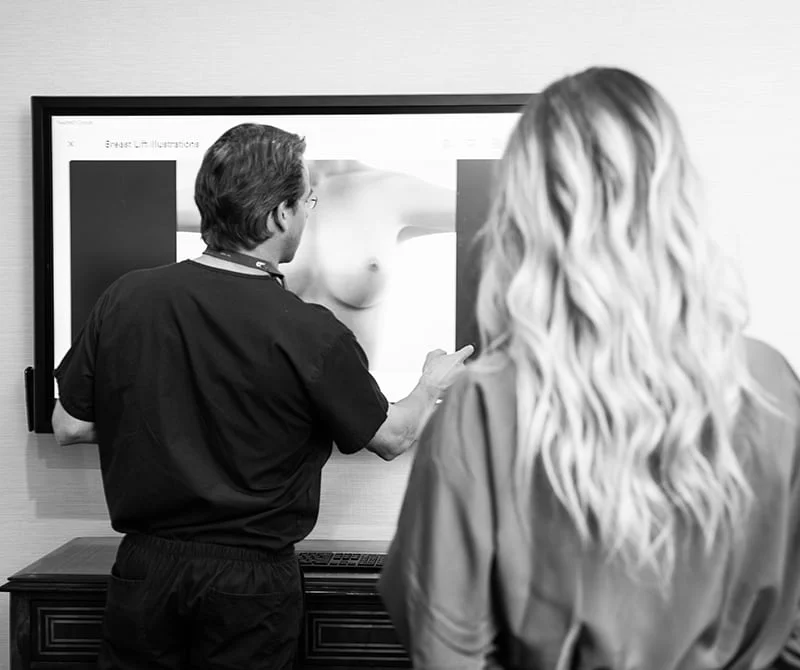 Additional Breast Lift FAQs
How much discomfort and how long will I be in pain?

Most patients have mild discomfort, and many don't even require pain medication. Patients are up and about the next day and have a rapid recovery with the exception of strenuous activity, vigorous exercise, or lifting over 10 lbs. These activities need to be avoided for two weeks following surgery to minimize any risk of bleeding.

When can I shower and resume activities, how long off of work, and when can I resume exercise?

You can shower the next day, and exercise can be resumed two weeks after surgery. Most patients are off work for a day or so—maybe several days at the most—depending on their job requirements.

Do any sutures have to be removed?

No. The sutures all dissolve.

Does Dr. Boynton completely remove the nipple in larger cases?

The "old fashion" nipple grafting (total removal of the nipple as a skin graft) technique has never been necessary in 15 years of Dr. Boynton's practice. Dr. Boynton has vast experience with the medial pedicle technique, which allows him to cone and contour the breast and achieve a very nice shape without removing the nipple—instead, it is "moved" up into place on the medial pedicle. Dr. Boynton even has experience with this pedicle in very large-breasted patients and this technique has worked quite well.

Nipple sensitivity changes?

10-20% of all patients with breast lifts may get some degree of nipple sensitivity changes. Most of this resolves by six to nine months after surgery. Certain patients may have some permanent changes, but it is not usually an issue that they notice.

Will my breasts droop again? What if I get pregnant?

It is impossible to prevent breast tissues from drooping (to some degree) over time due to factors such as gravity and genetics, but wearing a supportive bra as often as possible can usually slow and lessen this process. The breast swelling and subsequent volume loss that often accompanies pregnancy or breastfeeding may lead to the recurrence of breast drooping in some women, though the extent to which this will occur is unique to each individual. While fairly rare, Dr. Boynton has had patients who required a "second" breast lift—or sometimes a reduction—after having children. Unfortunately, it is not possible to predict what the breasts will do after pregnancy.

Will I have drains?

No. Dr. Boynton does not use drains on breast lifts (as was common many years ago and is still common with some plastic surgeons).