JUVÉDERM®
The JUVÉDERM® family of injectables consists of several different products designed to improve various signs of facial aging. Below are descriptions of JUVÉDERM® Ultra, JUVÉDERM® Ultra Plus, JUVÉDERM® XC, JUVÉDERM VOLUMA™, JUVÉDERM VOLBELLA® XC, and JUVÉDERM VOLLURE™ XC—all of which are available at our practice.
Explore Topics On This Page
JUVÉDERM® Ultra and JUVÉDERM® Ultra Plus
JUVÉDERM® Ultra and JUVÉDERM® Ultra Plus are fillers made from hyaluronic acid (a naturally occurring substance in the body) that can be injected into the smile lines (nasolabial folds), the corners of the mouth (oral commissures), lips, marionette lines around the chin, and even under the eyes (tear trough area) in order to smooth and soften wrinkles, as well as add volume for areas that need volume. The addition of lidocaine has made the injections even easier and more comfortable for patients. Board-certified plastic surgeon James F. Boynton, MD and our team offer these injections here at our office, and topical creams and "dental" blocks can be used when necessary to help ensure each patient has minimal discomfort.
JUVÉDERM® XC
JUVÉDERM® XC is manufactured using HYLACROSS™ technology, which creates a smooth-consistency gel. It is also infused with lidocaine to improve comfort during treatment.
All patients receiving any form of hyaluronic injections will have some swelling and bruising because the nature of hyaluronic acid is to recruit water into the area of the injection. Patients are recommended to do some gentle massages and alternate ice on-and-off the first day to limit swelling. JUVÉDERM® XC usually lasts four to six months, but in some cases it can last up to a year. When injected into the upper face, the injections often last around a year. Rarely, patients may experience a bump with JUVÉDERM® XC injections, but this can be "erased" with a special injection if necessary.
Ultimately, JUVÉDERM® XC is an excellent way to optimize and achieve lip augmentation, as well as restore youthfulness in the lower face that often changes with aging. Additionally, another application of JUVÉDERM®XC, known as non-surgical rhinoplasty, can also be performed by adding the filler to certain aspects of the nose to improve the appearance of the nose, or to "disguise" the dorsal hump by adding subtle amounts of filler above and below it.
JUVÉDERM VOLUMA™
JUVÉDERM VOLUMA™ is the first and only injectable filler of its kind to be approved by the FDA for volume enhancement in the cheeks and midface of patients 21 and older. Similar to that of JUVÉDERM® Ultra and JUVÉDERM® Ultra Plus, this revolutionary treatment is composed of a naturally-occurring hyaluronic acid solution, and as a result, it typically requires no allergy testing prior to administration.
Once injected, JUVÉDERM VOLUMA™ is designed to provide immediate augmentation to the cheeks and midfacial region, while also helping to diminish the appearance of moderate lines and wrinkles in the targeted area. Its long-lasting volumizing effects can help restore a more youthful-looking facial contour for patients interested in addressing midfacial volume deficits and other signs of aging.
At our office, the average treatment time for this procedure is about 30 minutes, depending on the individual needs of each patient. Some bruising and swelling may occur after treatment, but gentle massaging and the on-and-off application of ice during the first day can help limit these effects.
Ultimately, midfacial volume enhancement results from JUVÉDERM VOLUMA™ have been clinically-proven to last up to two years in many instances – much longer than similar nonsurgical alternatives. This innovative treatment can also be performed in combination with a number of other facial rejuvenation procedures to help enhance aesthetic outcomes.
JUVÉDERM VOLBELLA® XC
JUVÉDERM VOLBELLA® XC is an advanced dermal filler approved by the FDA to add volume to the lips and reduce lines around the mouth (perioral rhytids) in patients who are 22 and older. Due to its relatively smoother and softer hyaluronic acid (HA) composition, this unique injectable can produce volumizing results that are often considered more subtle and natural-looking than that of other similar alternatives, and the effects of treatment tend to last one year—sometimes longer—for most individuals.
At Boynton Plastic Surgery, all JUVÉDERM VOLBELLA® XC injections are performed by either Dr. Boynton or an extensively trained and highly-qualified member of our team to help ensure an optimal degree of safety and precision. Once administered, the innovative filler solution works to provide an immediate increase in volume that enhances the targeted area without creating an "overly augmented" or "unnatural" appearance. For this reason, JUVÉDERM VOLBELLA® XC is considered an excellent option for patients interested in restoring subtle tone and/or definition to their lips.
Depending on the specific needs and goals of the individual, the entire treatment takes approximately half an hour to complete. Some degree of swelling and/or bruising may be apparent initially after the procedure, but these symptoms can often be limited through gentle massage and the on-and-off application of ice within the first 24 hours. Despite these side effects, most patients are able to resume normal daily activities immediately.
Usually apparent right away, the results of JUVÉDERM VOLBELLA® XC have shown to last at least 12 months for the majority of patients in clinical study. When effects of treatment do eventually begin to fade, retreatment is generally recommended to maintain an ideal outcome.
JUVÉDERM VOLLURE™ XC
FDA-approved for individuals over the age of 21, JUVÉDERM VOLLURE™ XC is a next-generation injectable treatment designed to soften moderate to severe facial wrinkles with long-lasting results. The filler's specially tailored balance of gel firmness and low cohesivity makes it particularly effective for reducing the appearance of skin creases that run from the nose to the sides of the mouth—commonly known as nasolabial folds or parentheses lines.
Once injected, the advanced hyaluronic acid-based solution works to instantly add volume to the skin, minimizing targeted wrinkles on the surface for a rejuvenated, completely natural-looking aesthetic. The entire JUVÉDERM VOLLURE™ XC treatment generally takes about 30 minutes to complete, though this timeframe may vary based on the extent of one's aesthetic concerns and the number of injections needed. As with most fillers, there may be some degree of swelling and/or bruising right after the procedure, but these side effects can often be reduced via gentle massage and the periodic application of ice within the first 24 hours.
The results of JUVÉDERM VOLLURE™ XC are visible right away, and they have proved to last up to 18 months for most patients in clinical trials. This makes JUVÉDERM VOLLURE™ XC the longest-lasting filler available for the treatment of nasolabial folds. Once the rejuvenating effects do begin to wear off, touch-up injections can be received to maintain an ideal result.
What Are the Side Effects of JUVÉDERM® Treatment?
Most patients can expect some degree of swelling, tenderness, and bruising in the treatment areas; however, these brief side effects should fade soon after the procedure. We may also advise you to lightly massage the area and/or apply ice to the region periodically within the first day after treatment. There is typically no downtime or recovery period necessary after JUVÉDERM® injections, and many individuals resume their day as normal following the procedure.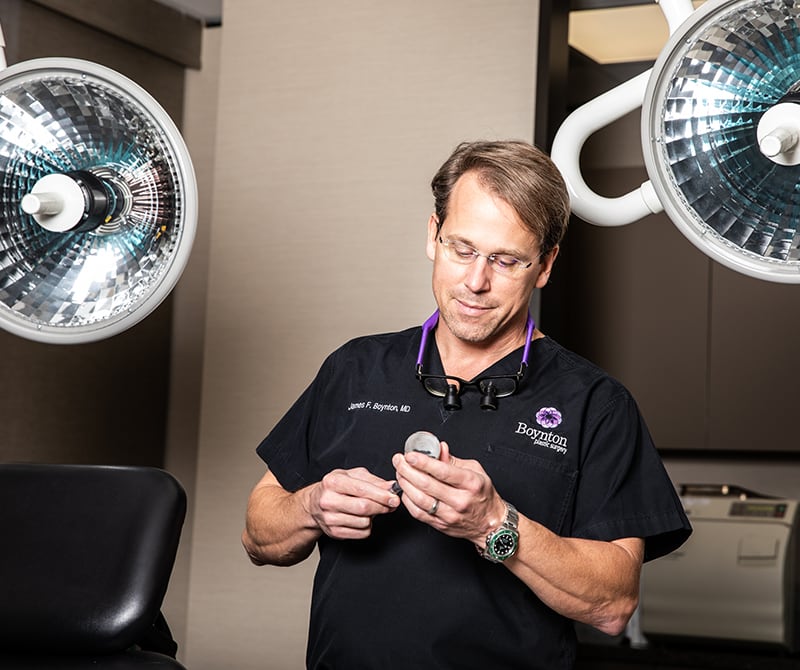 How Much Does JUVÉDERM® Cost?
At Boynton Plastic Surgery, JUVÉDERM® treatments usually start at about $700 to $900 per syringe. The overall cost of JUVÉDERM® procedures is ultimately dependent on each patient's customized treatment plan, and will be priced according to the amount of filler necessary to achieve individual goals, the specific JUVÉDERM® product utilized, and other associated factors. Our practice likes to make paying for treatment as convenient as possible, which is why we accept numerous payment methods. We also work with CareCredit®, which offers a variety of low- to no-interest financing plans for qualified applicants who would like to pay for their JUVÉDERM® treatment over time. During the initial consultation, a member of our team will produce a total cost estimate of your procedure based on your JUVÉDERM® treatment plan and answer any questions you may have.
More Like JUVÉDERM®
In addition to the JUVÉDERM® family of products, Dr. Boynton offers a wide span of other dermal fillers and injectables designed to non-surgically minimize aesthetic facial concerns for a rejuvenated appearance. From BOTOX® Cosmetic to Restylane®, RADIESSE®, and more, we can help you determine the most appropriate treatment for your unique needs and goals.
For more information about our JUVÉDERM® products, or to schedule a consultation, please contact us today.