What Is Breast Reduction?
Breasts that are disproportionately large for one's frame can lead to a number of physical and/or emotional concerns for many women. Some of the most common issues experienced by individuals with overly large breasts include pain and/or discomfort in the breast, shoulder or upper back, and even back in general, trouble finding tops or blouses that fit properly, wearing certain kinds of swimsuits, and a general sense of self-consciousness about their appearance. Individuals can also be debilitated by shoulder-strap grooves from heavy brassieres and many people will also have some decreased exercise tolerance related to discomfort with movement during attempted exercise. Many of these individuals will have improved exercise tolerance and fitness after breast reduction. Breast reduction is a procedure designed to remove extra tissue and re-contour the breasts to create a smaller, more proportionate volume and enhanced shape. With this treatment, patients can achieve a renewed sense of confidence and an improved quality of life. For more than 50 years, breast reduction surgery has consistently ranked among the most satisfying elective procedures performed. James F. Boynton, MD, our Houston plastic surgeon, has performed breast reductions on patients as young as 15 years-old—who were severely debilitated at a young age emotionally, psychologically, as well as physically—to the age of 75 years-old.
Dr. Boynton performs a number of breast reductions each week. These can range from the extremely large (gigantomastia) patient, to women that may just need a lift without much tissue being removed. Every breast reduction that Dr. Boynton performs has a "built-in" breast lift, so a breast lift is ultimately a part of every breast reduction from our practice. Following a consultation in which he will listen to your aesthetic goals and evaluate your specific needs, Dr. Boynton can custom-tailor a breast reduction treatment plan to achieve a more desirable breast size, contour, and position with natural-looking results.
For more information about breast reduction surgery, we invite you to check out the informative content and educational video provided below. If you have any additional questions, or if you wish to book a consultation with Dr. Boynton, please feel free to contact our office today.
What Are the Benefits of Breast Reduction?
Breast reduction surgery can be incredibly rewarding from both a physical and psychological standpoint. Depending on a patient's unique needs and concerns, this procedure can help:
Decrease the size/volume of the breasts
Create an improved breast shape and projection
Lift the position of the breasts (specifically the nipple areolar complex) relative to the "breast footprint" on the chest wall
Resize the diameter of the nipple-areolar complexes
Restore a more youthful, uplifted appearance
In addition to these aesthetic enhancements, breast reduction surgery can help:
Improve hunching and poor posture
Alleviate bra strap/shoulder-strap pressure responsible for deep skin indentations and grooves
Enable patients to finally exercise without pain or discomfort, which often indirectly facilitates weight loss for many individuals
Broaden the range of blouses, bras, and swimsuits that fit properly
Diminish one's dependency on heavier brassieres worn for support
Greatly enhance how one feels about herself and her appearance
Am I a Candidate for Breast Reduction?
Breast reduction can be an excellent solution for women seeking to decrease the volume and enhance the overall shape and position of their breasts. Good candidates for breast reduction are in good general health, do not smoke (or have quit smoking a minimum of six weeks before surgery, preferably with no plan to resume) and have had no exposure to secondhand smoking, and have realistic expectations for the results that can be achieved. Dr. Boynton will thoroughly discuss all candidacy requirements at the time of the consultation to make sure breast reduction is appropriate for interested patients.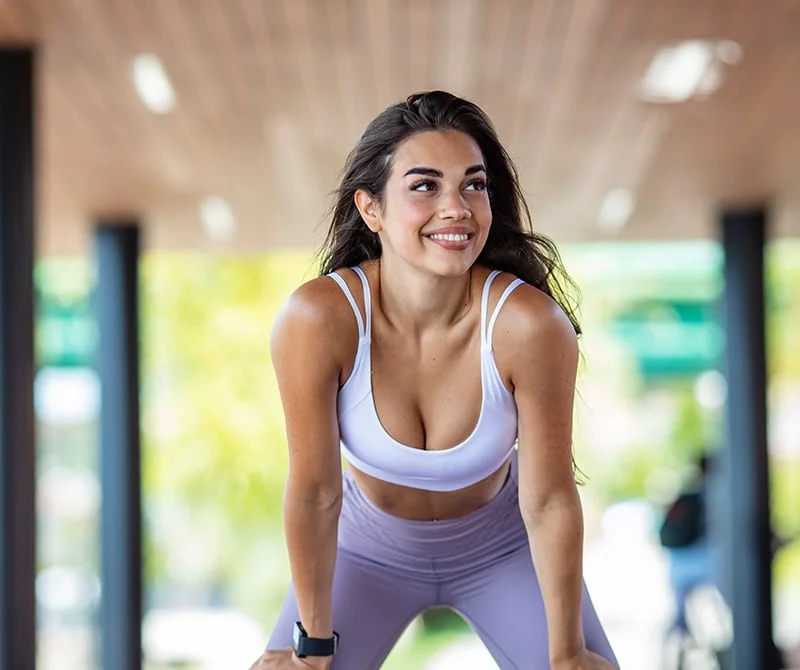 What Does the Breast Reduction Procedure Involve?
The majority of plastic surgeons in the US and elsewhere still utilize the "inferior pedicle" technique in breast reduction, which was the standard for many decades and which removes the tissue mostly from the upper areas of the breast while preserving tissue in the central, lower area to support the blood supply of the nipple (a so-called "inferior pedicle"). Many patients that undergo this technique will eventually have some degree of "bottoming out" after the procedure, in addition to losing upper pole fullness and projection, that in many cases can require a "touch-up" or second reduction—or even a breast lift—to correct. Dr. Boynton commonly sees patients that have had a traditional reduction and require this secondary procedure.
At his practice, Dr. Boynton performs a medial pedicle or superomedial pedicle breast reduction technique that removes most of the tissue on the bottom—the part that gravity affects the most—while preserving tissue on the top (to support the circulation to the nipple). This leaves patients with a very good shape right after surgery as well as good projection of the breast right after surgery, and the results—as far as maintaining shape—are much better than with the traditional, older technique.
What Can I Expect During Breast Reduction Recovery?
Immediately after breast reduction, the majority of patients will experience minor bruising, swelling, and/or tenderness in the breasts. These side effects are only temporary and should dissipate over time. Any discomfort that may be present is generally described as mild, and most women need only minimal—if any—pain medication. Showering is allowed the day after surgery, and non-strenuous activities like office jobs and running errands can typically be resumed within a couple of days of the procedure. However, Dr. Boynton usually advises patients to avoid exercise, heavy lifting (anything greater than 10 pounds), and other strenuous physical activities for a minimum of two weeks to allow for proper healing.
How Noticeable Are Breast Reduction Scars?
Scarring is an inevitable aspect of breast reduction surgery. Dr. Boynton prefers to call them "incision lines." Scars form where the skin is sutured together, and their appearance will depend on the individual's genetics, demographic, and heritage. For an idea of what to expect, view Dr. Boynton's breast reduction photo gallery, which showcases the results of several patients approximately six weeks after their procedure. Even women who are genetically predisposed to keloid scarring have been thrilled with their results due to the physical and emotional benefits of breast reduction.
Will I Be Able to Breastfeed After a Breast Reduction?
Unfortunately, whether you will be able to breastfeed after a breast reduction is unpredictable. While there are certain breast reduction techniques that can work toward minimizing the risk of affecting one's ability to breastfeed for women who would like to retain that ability in the future, there is still the possibility that the surgery may interfere with one's ability to breastfeed despite the use of those techniques. It should be noted that a significant percentage of women are naturally unable to breastfeed, regardless of whether they have undergone any type of surgical procedures for the breasts. Please be sure to talk with Dr. Boynton during your initial consultation about your wishes in regards to breastfeeding.
Will I Need a Breast Lift With My Breast Reduction?
In all patients, a breast lift is part of the breast reduction. A breast reduction surgery already entails a certain degree of "lifting," without the need to undergo a full breast lift procedure at the same time. When tissue is removed during a breast reduction, the breasts are then reshaped to create firmer results that are similar to what a breast lift can achieve. As noted above, some patients may later need a "touch-up" breast reduction or a traditional breast lift later on; however, this is not the case with all patients.
Is Breast Reduction Without Surgery Possible?
The answer to this question is dependent on what's causing the breasts to be excessively large. If excess glandular tissue is the source of the concern, breast reduction surgery is typically the only effective option capable of significantly reducing breast size. If an abundance of excess fat in the breasts is the primary cause of enlargement, some individuals may be able to achieve some degree of reduction via diet and exercise. Each person's unique physical anatomy and the severity of their condition will ultimately determine the most effective way to resolve their concerns.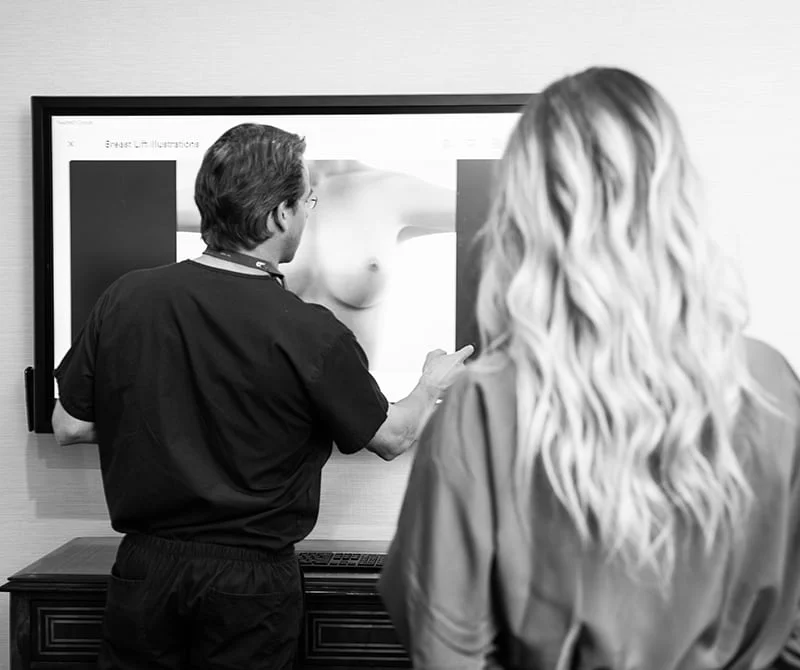 How Much Does Breast Reduction Cost?
The price of basic breast reduction surgery often starts in the range of $10,500 and upwards at our practice. $13,000 – $13,500 is the approximate cost if axillary liposuction is included. With all of this in mind, it is important to note that this procedure is customized to each individual's needs and goals; therefore, the total price of breast reduction surgery varies from one patient to another. Components that are taken into account for the overall cost include the surgeon's fee, the techniques that are utilized, the complexity of the operation and how much time it will take, facility and anesthesia fees, pathology fees (tissue analysis), and other factors.
Dr. Boynton is an aesthetic breast surgeon and believes in reshaping and reducing the breast from an aesthetic standpoint. It is important for patients to expect that aesthetic breast reduction will probably not qualify for insurance. In rare cases, it still may; however, Dr. Boynton is not contracted with any insurance providers. Dr. Boynton's artistry is focused on the safest and most aesthetically pleasing outcome for each particular patient and their anatomy. With that in mind, it's important to note that our practice accepts an array of convenient payment methods and works with CareCredit®, a plastic surgery financing company that offers affordable monthly payment plans to qualified applicants. A member of our team will produce an estimate of the total cost of your breast reduction surgery once your treatment plan is developed during the initial consultation. We will be happy to talk with you about your options and answer any questions you may have.
Additional Breast Reduction FAQs
How much discomfort can I expect, and how long will I be in pain?

Most women experience mild discomfort after surgery, and many don't even need to take pain medicine. The majority of patients feel well enough to be up and about the next day, though strenuous activity, exercise, or lifting more than 10 lbs is prohibited for at least two weeks to facilitate healing and minimize any risk of bleeding.

When can I shower and resume activities, how long off of work, and when can I resume exercise?

Showering is permitted the next day following surgery. Most individuals only need a day or two away from non-strenuous work, and exercise can generally be resumed after a couple of weeks.

Do any sutures have to be removed?

No, all sutures are dissolvable.

Does Dr. Boynton completely remove the nipple in larger cases?

At Dr. Boynton's practice, he finds that the "old-fashioned" nipple-grafting method is rarely needed. Dr. Boynton has considerable experience in performing the medial pedicle approach, which enables him to contour the breast in a way that creates a great shape without removing the nipple. Instead, the nipple is "moved" up to a desirable position on the medial pedicle.

Nipple sensitivity changes?

Approximately 10-20% of breast reduction patients will experience some degree of nipple sensitivity changes, though the majority of this often resolves about six to nine months after the procedure. There are individuals whose changes are permanent, but it is not generally a notable issue. Dr. Boynton cannot think of a patient in 14 years where it was an issue long-term.

Will my breasts get large again? What if I get pregnant?

There is a degree of possibility that younger patients who undergo a breast reduction prior to having children may develop large breasts again after having children. This is fairly rare, but Dr. Boynton has had a number of patients who required a "second" breast reduction—or a lift—after having children. It is impossible to predict what the breasts will do after pregnancy.

Will I have drains?

With a very, very rare exception, drains are typically not used for breast reductions at Dr. Boynton's practice. There are still plastic surgeons who routinely use drains with breast reduction; however, Dr. Boynton has never used drains, with a rare exception being on a patient with concomitant breast reduction and axillary lift, or gigantomastia. This was common a long time ago, and although some plastic surgeons still utilize drains, Dr. Boynton does not.

Do I need liposuction of the armpit area as well?

Many patients benefit from liposuction (liposculpting) of the "axilla" or armpit and lateral breast area. This ensures a comfortable fit in new bras and tops after surgery. It does not add much time to the procedure.
Schedule a Breast Reduction Surgery Consultation
Dr. James F. Boynton can meet with you in an initial consultation to discuss all aspects of breast reduction. Please contact Boynton Plastic Surgery for more information, or if you would like to set up an in-person consultation with Dr. Boynton.