Fear of Scars in Breast lift and Reduction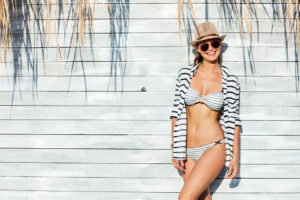 One of the most common questions I get is: "What will the scars look like?" The word scar, in general, has a bad connotation and creates fear in most people. I prefer the term "incision lines" as compared to "scars." There are few places where patients are more fearful about scars than their breasts. Breast reductions and breast lifts typically involve an "anchor style" pattern of incision lines around the areola and vertically below it. The only "line" that is visible initially is the vertical line. The shape improvement imparted by these lines is well worth the tradeoff for the incision lines in more than 90 percent of all patients. I was taught by a very famous plastic surgeon many years ago: "Shape wins over scars." This basically means that shape improvement is more important than incision lines. Patients want to look good both in and out of clothes, and a breast lift and breast reduction can tighten and lift and improve the shape of the breasts, and can therefore drastically improve swimsuit appearance.
Most of the time when we show before-and-after pictures in our gallery of examples at our practice, the "afters" are recent, and reflect red or even discolored "scars" or incision lines. I always tell patients that the scars will fade in time and settle down in the vast majority of individuals. Yes, there are some patients that form thicker, heavier scars, but those can be managed with various injections, such as 5-FU and silicone gel.
The below example reflects a typical three-year "after" result of a patient who underwent breast augmentation with breast lift at the same time following changes to the breasts after pregnancy. The first "after" example (2nd image) is at several months following surgery. The final example shows not only a fading of the incision lines, but also a nice maintenance of the shape and position of the breast at three years.