Jowl Lift for Sagging Jowls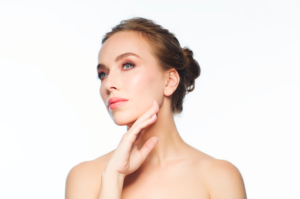 According to the New Oxford American Dictionary, the word "jowl" is defined as: "the lower part of a person's cheek, especially when it is fleshy or drooping: she had heavy jowls."
One of the things that bothers women most when they get in their 40s (sometimes 50s) is the development of jowls. This happens with aging and many different approaches have been applied. Often, this is a result of laxity of the cheek; but, in some individuals, it can also occur due to loss of some volume in the prejowl sulcus or recess (space in front of the jowl) on the jawline.
First-line approaches and the non-surgical approach often center around "filling" the prejowl recess to "disguise" the saggy jowl. This can work and does work quite nicely in male jawlines, especially when a thicker, heavier filler such as Radiesse® is utilized; however, in most women, they desire more of a "heart-shaped" face rather than a squared-off masculine jawline. The better solution in most cases here is a "jowl lift." Ultherapy® was one of the first "devices" that really centered on "lifting and tightening" the jowl. I have heard so many times anecdotally that patients have spent quite a bit of money and time, and with quite a bit of discomfort involved, trying to work on their jowls without much, if any, success. Let's unpack this concept a bit…. what is behind this? Women want jowl improvement and don't necessary want a "big surgery." Silhouette InstaLift™ is another "minimally invasive" technique that theoretically can provide some degree of lift to the jowl. I have never been able to get that much lift… but that is because I believe the best technique to tackle the jowl is to lift it, and to give it a vertical suspension lift.
Lifting the jowl is part and parcel to my "mini lift" short-scar facelift that I perform in the office with only local anesthesia and some valium, with a short minimal incision that can be well-disguised in front of the ear. This allows me to truly lift the jowl and restore the shape of the lower face and jawline as well as the cheek.
So many patients I see from elsewhere are too "puffy"; women want a restored lower face shape in general – not a bigger, wider face. The hang-up for many is the age-old notion that a facelift is a many-hour surgical procedure done in a hospital with an overnight stay, and a result they feel may be "too much," coming out of the procedure looking different. My technique gets right to the heart of the situation that bothered them in the first place: the jowl.
— Dr. James F. Boynton
Example incision: