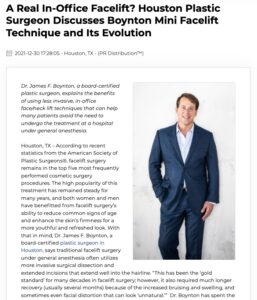 Dr. James F. Boynton, a board-certified plastic surgeon, explains the benefits of using less invasive, in-office face/neck lift techniques that can help many patients avoid the need to undergo the treatment at a hospital under general anesthesia.
Houston, TX – According to recent statistics from the American Society of Plastic Surgeons®, facelift surgery remains in the top five most frequently performed cosmetic surgery procedures. The high popularity of this treatment has remained steady for many years, and both women and men have benefitted from facelift surgery's ability to reduce common signs of age and enhance the skin's firmness for a more youthful and refreshed look. With that in mind, Dr. James F. Boynton, a board-certified plastic surgeon in Houston, says traditional facelift surgery under general anesthesia often utilizes more invasive surgical dissection and extended incisions that extend well into the hairline. "This has been the 'gold standard' for many decades in facelift surgery; however, it also required much longer recovery (usually several months) because of the increased bruising and swelling, and sometimes even facial distortion that can look 'unnatural.'" Dr. Boynton has spent the last 10 years working on his "in-office facelift," which he says makes a substantial difference with less dissection, shorter and more hidden incisions, and a shorter downtime—typically of only one week.
"Many patients in their 40s and 50s are searching for less invasive options for facial rejuvenation," Dr. Boynton says. "Fillers/injectables and BOTOX® Cosmetic are often patients' 'entré' into aesthetics, but there are limitations to what they can deliver. I routinely see patients that may look 'overly full' in their cheeks from a filler treatment that they were told would 'lift the cheek.' I do not believe that dermal fillers really lift soft tissues—I think that when tissues become lax, the gold standard is still to surgically lift the cheeks and jowls. Patients really want a clean jawline, and the jowls and early neck laxity in my opinion are the biggest issues that bother them. Overfilling with injectables can give a more 'rounded face' and not restore the oval shape that lifting can. There is no replacement for lifting surgery if it is indicated, in my opinion. One of the giants in plastic surgery, my mentor Dr. Tom Biggs, always taught me that "Shape always wins over scars." Scars, also known as incision lines—if well placed will fade and not be visible. I believe the big push for energy-based devices in the lower face and neck have to do with patients' fear of scars/incisions. I do a full litany of in-office face and neck lift procedures depending on what is the best fit for each individual patient. Sometimes, lipo-contouring under the chin is a good starting point. My in-office facelift has evolved over the last 10 years. Just like software updates, I have added tweaks and updates along the way that really get to the issues bothering my patients. Sometimes in surgery 'less is more' and I feel my technique produces the changes that patients desire without more than they want, which gives them the improvement while still providing them a short recovery. I have strived to find the balance between 'getting enough change/or improvement' and keeping patients looking natural and like themselves—never over-pulled—and still also giving them a fast recovery. Some of the facelifts of yesteryear would leave patients looking a bit distorted, swollen, and unnatural, sometimes for months. My patients come to my office, take a simple oral medication to relax, and everything is done here. Patients are glad they don't have to go to a hospital, especially in this COVID era. They don't get nauseated or have to worry about blood clots. I also do not use a drain (with rare exception), and they go home and don't have to stay overnight at a hospital."
Dr. Boynton says his in-office, mini facelift treatments can frequently serve as alternatives to standard facelift surgery for individuals who may not need that procedure to effectively achieve their goals, as well as for those who are experiencing "filler fatigue." While injectable dermal fillers can be exceptional treatment options for many patients, Dr. Boynton says the results of those treatments are not as long-lasting as a facelift. "The face gets 'loose on the sides' and 'hollow around the mouth.' So, over time, patients need lifting to improve the laxity, and also volume correction (around the mouth) to replace the volume loss. The latter is best achieved with fillers or fat injections. Ultimately, facelifts should last 10 years, and even this mini lift is powerful and should last that long. Some patients are amazed that we can perform a facelift in the office. In most cases, we are addressing the central neck as well with thinning of subcutaneous fat and muscle tightening (known as platysmaplasty). I enjoy doing these cases and my patients really enjoy being here at the office. A number of our patients who have had previous facelifts have commented how 'easy' it was compared to having to undergo general anesthesia." With that in mind, Dr. Boynton says, while 9 out of 10 patients do great in the office, he places patient safety of paramount importance in his practice. In some cases, he may still need to perform some procedures under general anesthesia, but always on an outpatient basis. This enables the patient to go home and recover following the surgery, which patients prefer.
For many facelift patients, Dr. Boynton can also add microfat and nanofat injections, which he believes "takes every facelift up a notch" and enhances the rejuvenative results. He says he prefers fat injections over fillers in facelift patients; however, he notes that in most patients, the use of dermal fillers is still an excellent choice, especially around the mouth.
In general, Dr. Boynton says his in-office facelift can help reset the clock by making the patient appear more youthful than before the treatment. With his in-office facelift procedures, Dr. Boynton reveals that both women and men with mild to moderate cosmetic concerns in the mid- to lower facial areas can obtain many of the same benefits as a standard facelift, including:
Reduction in signs of sagging, inelastic skin
Reduction in the appearance of jowls and jawline improvement
Neck improvement and improvement of platysmal bands & neck laxity in patients with fuller faces or signs of a "double chin"
Reduction in signs of nasolabial folds (lines between the nose and mouth) and other wrinkles and creases
Improvement of cheek aesthetics
Smoother, firmer skin along the upper neck and under the chin
With an in-office facelift, Dr. Boynton says his patients will not have to visit an outpatient surgical facility that's located in another area. This is much more like "going to the dentist" than having surgery in a hospital. Dr. Boynton feels that the convenience of being in a private office and his use of less invasive facelift techniques typically helps patients heal at a faster pace after surgery, allowing for less recovery time. Likewise, he says a less invasive facelift can also yield well-concealed scars—many women can confidently put their hair up and men can have very short haircuts without concern about others noticing any scars.
Dr. Boynton says the rise of teleconferencing and remote work seems to be creating new levels of interest in cosmetic enhancement procedures such as facelift, cheek lift, neck lift, and other facial plastic surgery treatments, as well as an array of minimally-invasive and non-surgical options. As the field of aesthetic enhancement continues to advance, he says techniques that allow for less invasive treatment while producing long-lasting, natural-looking results offer more and more individuals new and convenient ways to achieve their ultimate goals. That said, Dr. Boynton also notes that what is ideal for one patient may not be ideal for another. Individuals who have more severe signs of age and sagging skin may be more suited to a standard facelift or other type of treatment. Dr. Boynton says the best way to determine candidacy for a mini facelift is to come in for a consultation so the skin can be properly evaluated and the patient's goals and expectations can be ascertained. He cautions anyone who is interested in aesthetic enhancement to be sure to thoroughly research the credentials and experience of the plastic surgeon they are considering, and to meet with the doctor in-person to determine whether they feel comfortable and confident in their care.
About James F. Boynton, MD, FACS
Dr. James F. Boynton is certified by the American Board of Plastic Surgery. He is also a Fellow of the American College of Surgeons and an active member of the American Society for Aesthetic Plastic Surgery (The Aesthetic Society®), the American Society of Plastic Surgeons®, and other medical organizations. Dr. Boynton has been recognized by Castle Connolly as one of America's Top Doctors®, and as one of America's Top Plastic Surgeons by the Consumers' Research Council of America. He has also been named a Top Doctor in Houstonia magazine and H-Texas magazine, and has been recognized multiple times as a RealSelf Top Doctor. In addition to in-office facelift procedures, Dr. Boynton offers a comprehensive selection of surgical and non-surgical treatment options, including breast augmentation, tummy tuck surgery, cosmetic injectables, and many others. Dr. Boynton is available for interview upon request.
To learn more, visit boyntonplasticsurgery.com and facebook.com/DrBoynton.
Contact:
Boynton Plastic Surgery
1900 St. James Place
Suite 200
Houston, TX 77056
(713) 800-6060
Rosemont Media
(800) 491-8623
www.rosemontmedia.com