Breast Implants Don't Last an Entire Lifetime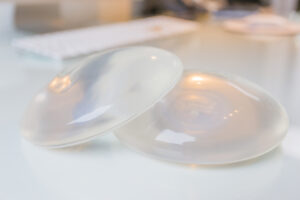 Having breast implants is not a "one and done" thing—they are not permanent!
Like anything else that is not "living tissue," breast implants have a shelf life. I see so many patients that may have decided on breast augmentation before having children in their 20s, and then fast-forward 30 years to their 50s and there is usually a different set of aesthetic breast issues occurring. While I have seen the rare patient with 30-year-old saline implants still intact, they do not feel breast-like, and implants that old are almost universally contracted and in dire need of replacement via revision breast augmentation surgery.
Think about it this way—would you expect that one set of tires would last an entire lifetime without needing to be changed out?
I recently saw a patient who received saline breast implants many years before. Over the years, and after children and menopause, she had gained weight and also breast tissue and developed quite a bit of "sagging" in the breasts, causing the nipples to point downwards. She really needed a breast lift and removal of her old breast implants; however, it was her "fear" of letting them go that was holding her back. She identified herself with these implants for most of her adult life. Instead, she wanted to undergo a breast lift but keep her original saline implants. That surely is one possibility, but in my opinion, not the best possibility. After all, would you build a new house on an aging foundation? You could, but most people would advise pouring a new slab.
My recommendation was to change the old saline implants out for new highly cohesive silicone gel "gummy bear" implants—such as Sientra®, Mentor® MemoryShape®, or Natrelle INSPIRA® —all of which are more breast-like in feel, softer, and actually lighter than the same size saline breast implant (fluid weight is more than "gel" weight). In addition, newer silicone gel breast implants tend to last longer, they can eliminate the annoying "squish" and "slosh" noises that may be bothersome to someone who has aging saline implants, and there is no risk of having a sudden "deflation." (While the risk of sudden deflation is only about 1% per year when saline implants are initially placed, it increases significantly after 10 years, which is why many plastic surgeons recommend replacing saline implants after 10 years.)
Ultimately, I always make it a point for young patients who come in for breast enhancement to point out that there is a 100 percent chance they will need surgery again to have their implants removed and replaced at some future point in their lives. My goal is simply to give every patient the best surgery, best science, and best overall result that can last the longest. I recommend to all patients with breast implants to come and visit me once a year so we can see how things are going, take measurements, and make sure the implant is doing okay.
The science and art of natural breast augmentation continues to improve with each decade. I continue to strive to stay on the cutting edge of science in this area so that I can offer the very best options to my patients.
– Dr. James F. Boynton, Houston Plastic Surgeon