What Will My Breasts Look Like After Implant Removal?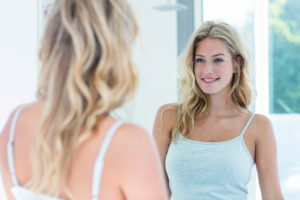 While the majority of women enjoy their breast augmentation results for many years, some patients express interest in removing their implants. There are a few potential reasons for this, including dissatisfaction with or a desire to change the size, shape, or type of implant; complications or concerns that may have arisen after the initial breast augmentation; or the simple wish to return to the way they looked before their augmentation.
In any case, patients sometimes worry about what their breasts will look like after the procedure (known medically as "explantation surgery"). Fortunately, an experienced breast surgeon like James F. Boynton, MD, FACS customizes revision breast augmentation procedures for each patient and can use advanced techniques and additional treatments (if necessary) to create the best possible outcome.
Immediately following breast implant removal, you will likely notice mild to moderate bruising or swelling, which should fade as you heal. It is also important to note that, while Dr. Boynton will take every measure to return your breasts to their appearance prior to augmentation, some patients may notice a bit of sag that had not been present before their augmentation depending on how much skin stretch was induced by the implant (which also has to do with the size of the breast implants). This may be the result of stretched skin or tissue caused by the implants. For these patients, Dr. Boynton may recommend breast lift surgery to remove extra skin and give the breasts a firmer, more youthful aesthetic, which can be done at the same time or sometimes is done after several months in patients who wish to wait and see if they need a breast lift. Some patients later elect to return back to breast implants while others would prefer to stay without implants after explantation. Sometimes in addition to breast lift/mastopexy, we may also apply some fat injection in the upper pole of the breast for additional fullness in selected patients.
Although there are valid reasons for patients to want to remove their implants altogether, it is typically more common for patients to undergo a revision breast augmentation procedure to "exchange" their implants for another type or size. A breast implant exchange or "upgrade" serves to replace the current implants with new ones. Dr. Boynton, who has dedicated much of his career to learning breast revision techniques, offers several advanced methods for this complex surgery. In fact, he is one of the only plastic surgeons in Houston to offer the innovative neo pocket technique, one of the most effective strategies available for repositioning implants. If you are interested in improving the appearance of your breast implants, we encourage you to consider revision augmentation from a renowned surgeon like Dr. Boynton.
For more information about breast implant revision or removal, as well as any of our other breast enhancement options, contact our practice today.