Would Liposuction or Tummy Tuck Be Better for Me?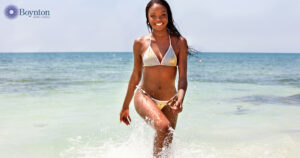 Both liposuction and tummy tuck surgery can be effective options for many women and men seeking to improve the contour and overall appearance of their abdominal region. However, depending on your needs and goals, one treatment may be more effective than the other. If you are interested in achieving a slimmer, more toned mid-section, the following information can help you determine which of the two cosmetic procedures would be most appropriate for addressing your aesthetic concerns.
Liposuction (which I sometimes like to refer to as lipo-contouring) may be more appropriate if your concerns are limited solely to accumulations of excess fat. This procedure can be employed to remove stubborn fat tissues from various regions of the body, including the abdomen, flanks, and hips. At my practice, I offer tumescent lipoplasty and liposculpture (lipo-contouring) techniques, both of which have proved to yield exceptional results for qualified patients.
In contrast to liposuction, tummy tuck surgery may be the best option if you are concerned with loose, excess skin in the stomach region. Also referred to as abdominoplasty, this procedure is designed to excise redundant skin, repair stretched and/or torn abdominal musculature, and tighten the remaining skin. In many instances, some degree of liposuction is also performed during tummy tuck surgery in order to complement and even enhance the final outcome.
Ultimately, the decision as to whether liposuction or abdominoplasty is right for you will depend on a combination of different factors, but the information provided above can point you in the right direction. If you are interested in improving the appearance of your abdomen and midsection, I encourage you to consult a board certified plastic surgeon who has extensive experience in both techniques. Together, you can decide which treatment (or combination of treatments) would be most be beneficial for your unique aesthetic concerns and desires.
– James F. Boynton, MD, FACS