Benefits of Strattice™ Dermal Grafting for Breast Revision
For individuals considering breast revision surgery to correct and/or improve unsatisfactory results from a previous breast augmentation, an innovative dermal grafting (acellular dermal matrix) method known as Strattice™ Reconstructive Tissue Matrix can often be an excellent option. Designed as an "internal bra" of sorts, Strattice™ works to support weak breast tissue, while also promoting the growth of your own tissue. Additional benefits of this revolutionary technique include its ability to help:
Strengthen the breast pocket
Secure breast implants in the proper position, which is usually in the subpectoral (under the muscle) pocket
Provide breast implants an added layer protection and support
Add thickness to breast tissue to "disguise" wrinkles or ripple lines in patients who have thin tissue
Improve the location of the inframammary crease (the natural crease below the breasts)
Correct capsular contracture, implant malposition, "bottoming out", symmastia, and other complications that can manifest after breast augmentation
Diminish the risk for potential complications that might have occurred after the original implant operation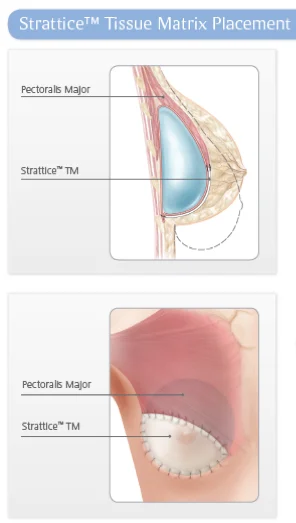 Ultimately, Strattice™ dermal grafting may be able to enhance the results of your breast revision surgery while also decreasing the chance of potential complications and the need for additional procedures down the road.
– Dr. James F. Boynton, Board Certified Plastic Surgeon
Contact Our Office
To learn more about Strattice™ dermal grafting for breast revision surgery, or if you would like to schedule a consultation with Dr. Boynton, please don't hesitate to contact us today.