Should I Massage My Breasts After Breast Implant Surgery?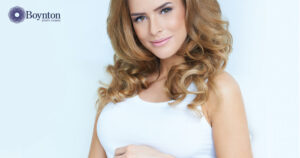 At Boynton Plastic Surgery, all breast augmentation procedures I perform are subpectoral, meaning the implants are placed under the muscle. Following surgery, the top of the breasts initially appear excessively full because the muscle tightens right away. As the skin and muscle relaxes and stretches to accommodate added chest volume, the implants gradually "settle" into place. During this time, the body forms a thin layer known as a "capsule" around the implants, which is a natural process that occurs when any foreign, non-living object is introduced to the body. This "capsule" takes approximately three weeks to form.
For patients who receive textured form-stable cohesive gel implants (Sientra® or Mentor®), breast massaging is never recommended. In fact, no textured implants should ever be massaged after surgery, as they are designed to "lock" into place as the capsule forms. For women who receive saline implants or smooth, round silicone implants, however, I typically recommend starting massages one to three days after surgery. The purpose of breast massaging – or implant displacement exercises – is to help the implant get moving and start settling under the muscle as the capsule is forming, which can aid in the prevention of capsular contracture while helping to ensure the most accurate positioning. In addition, massaging exercises also help prevent "high-riding" implants that, in my opinion, occur more often in women who have well-developed musculature but don't actively massage or engage in an implant displacement program.
Ultimately, some implants settle into position as soon as three weeks after surgery with proper breast massaging, while others may take up to three months. Additionally, it is normal for one implant to settle and soften before the other, so this should not be worrisome if it occurs. At the time of your consultation, personalized massage instructions can be provided based on your unique needs and specific implants of choice to help ensure optimal outcomes are achieved.
– Dr. James F. Boynton, Board Certified Plastic Surgeon
Contact Our Office
To learn more about breast massaging following breast augmentation, or if you would like to schedule a consultation with Dr. Boynton, please contact us today.