Can 'Dog Ears' After Tummy Tuck Surgery Be Corrected?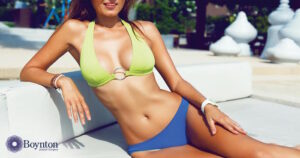 In plastic surgery, a "dog ear" refers to puckering of the skin that is sometimes apparent at the end of a scar, particularly after procedures that involve some degree of skin tightening. These can occur when skin beyond the end of the scar is looser than skin along the scar itself, often creating a small mound of excess skin where the incision ends.
Due to the skin tightening aspect of tummy tuck surgery (abdominoplasty), dog ears are actually quite common after the procedure. In fact, I would guess that as many as twenty percent of all individuals who receive abdominoplasty end up with this potential side effect on one or both ends of their scar. The good news is, dog ears are generally easy to correct with a minor procedure performed in-office.
Once a portion of the scar has been reopened, some dog ears simply require the excision of loose skin to correct the issue. Others may need touch-up liposuction to remove residual tissues and decrease underlying fullness. In many instances, the procedure involves a combination of both techniques. For the majority of patients, I wait about six months after tummy tuck surgery to determine whether or not a dog ear is present, and if so, the procedure can be conducted in the office under local anesthesia with a relatively quick recovery.
– James F. Boynton, MD, FACS
Contact Boynton Plastic Surgery
For more information about the correction of dog ears after abdominoplasty, or if you wish to schedule a consultation with Dr. Boynton, please contact us today.