Do I Need to Wear a Compression Garment After Liposuction?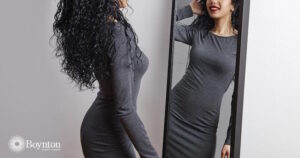 A number of studies have been conducted on wearing compression garments following liposuction, and evidence suggests that doing so can be extremely helpful. In my professional opinion, patients who wear a compression garment as advised by their surgeon generally experience a quicker recovery from swelling, bruising, edema, and/or other potential side effects that may occur after liposuction. That said, not all compression garments are created equal – various types of fabric weaves can often make a difference in both comfort and efficacy.
As opposed to many traditional liposuction compression garments that use a Powernet weave, I prefer to issue Marena's Comfortweave™ garments to patients at my practice. After scientifically studying Marena garments head-to-head with traditional alternatives on the market, my colleagues and I found that they are cooler, more comfortable, easier to put on and take off, and they often result in less pain and itching. The evidence was so clear that we even presented our findings at the American Society for Aesthetic Plastic Surgery's national conference in 2009.
In addition to the specific fabric weave, the size of the compression garment also plays a key role in its comfort and effectiveness. If the garment is particularly irritable, it is likely either too tight (in which case the next size is needed) or it has a seam/edge that is applying extra pressure in the targeted region. In the latter instance, I often place a silicone-based foam – known as "epifoam" – directly over the area that "needs to be compressed", and then the garment goes on top. This helps to provide added comfort while still targeting the area of compression.
Ultimately, I initially advise liposuction patients to wear their compression garment 24 hours a day for three weeks (showering excluded), and then only at night for the subsequent three weeks. Additionally, post lymphatic massage in the targeted areas should be started two weeks after surgery to help reduce formation of scar tissue and depression lines that can potentially occur by simply compressing without proper massaging.
– Dr. James F. Boynton, Board Certified Plastic Surgeon
Contact Our Office
If you have any other questions about liposuction, or if you would like to schedule a consultation at Boynton Plastic Surgery, please contact us today.