My Breasts Are Uneven After Augmentation – What Should I Do?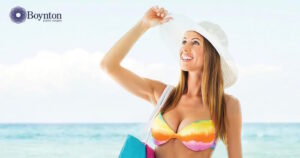 If you notice irregularities in regard to the size and/or positioning of your implants immediately after breast augmentation, it's not time to panic. Some initial swelling in the breasts is a common side effect of surgery, and it often occurs in varying degrees that may make the breasts appear uneven in the first few days – or even weeks – following your procedure. Additionally, implants take time to fully settle into their final position. In fact, saline implants and smooth, round silicone implants can take a complete three months to settle downward, even when implant displacement exercises are being performed regularly. Textured anatomically shaped silicone implants tend to "lock into" the capsule a bit sooner, but the capsule still takes at least three weeks to form completely.
My recommendation is to wait at least three months – all the while performing implant displacement exercises, if advised – before starting to consider your options. If you are still unhappy with the results of your initial breast augmentation at this time, breast revision surgery may be an excellent course of action to take. This procedure can be performed to increase/decrease the size your breasts, improve various asymmetries, or even upgrade your implants for a more natural look and feel (see: anatomic-shaped, form-stable cohesive gel implants). As an added benefit, the recovery from revision breast surgery is typically faster than that of your original procedure because your breast tissues have already "stretched out" to accommodate your current implants.
Ultimately, it is important to realize that all patients have pre-existing breast asymmetries, many of which cannot be corrected with breast augmentation alone. For instance, if the location of one nipple is slightly different than the other prior to the procedure, simply placing breast implants may not completely resolve the concern. For this reason, any asymmetries that exist before breast augmentation is performed should be identified and discussed in full detail with your board certified plastic surgeon to ensure realistic expectations are established prior to surgery.
– James F. Boynton, MD, FACS
Contact Boynton Plastic Surgery
For more information about what to do if you notice asymmetries after breast augmentation, or if you wish to schedule a consultation with Dr. Boynton, please contact our office today.