Breast Augmentation After Breastfeeding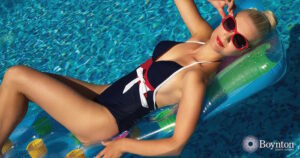 At Boynton Plastic Surgery, one of my particular areas of specialty is breast enhancement surgery after pregnancy and breastfeeding. The majority of women experience some degree of "tissue deflation" in the breasts after the cessation of breastfeeding, and breast augmentation can often be an excellent way to restore this lost volume. There are numerous types of breast implants that can be used to attain natural-looking results (including saline, traditional silicone, and anatomic-shaped, form-stable cohesive gel implants), and the best outcomes are often achieved when measurements of the chest wall are taken and utilized to determine the ideal implant size and shape.
In addition to selecting the proper breast implants, it is also critical to pinpoint exactly what bothers you the most about the appearance of your breasts – is it the volume, the positioning of the nipples, or some other concern? If volume is mainly your issue, I would generally recommend breast augmentation alone, as implants placed under the muscle using a dual-plane approach tend to provide some degree of internal lift while avoiding the incisions necessary for a full breast lift (mastopexy). However, if you are seeking a more "uplifted" appearance in addition to increased volume, I would typically recommend a breast augmentation performed simultaneously with mastopexy. Though this procedure may require the use of smaller implants (attempting to combine large implants with a lift can be problematic), a breast augmentation with mastopexy can be an excellent option for adding volume while achieving an overall rejuvenated appearance.
– Dr. James F. Boynton, Board Certified Plastic Surgeon
Contact Boynton Plastic Surgery
If you are interested in restoring the pregregnany appearance of your breasts and would like to find out which breast enhancement option may be best for your needs, please contact our office today to schedule a consultation with Dr. Boynton.