Keeping Aging of the Face and Hands In Sync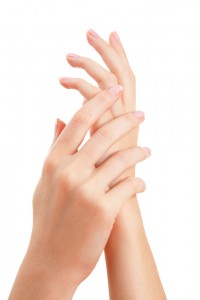 In my years of experience as a plastic surgeon, I've noticed that women in their late 40s, 50s, and even 60s are typically most concerned with aging of their face and hands. From an early age, many women adorn their faces with makeup, often desiring to preserve a "pretty", more youthful facial appearance as they mature. It is also quite common for women to wear rings and other jewelry that draw attention to their hands.
I have seen women that have received an excellent facelift yet still have "aged hands". There is an old saying that you can tell the age of a woman by looking at her hands, though this concept doesn't have to be true anymore thanks to advancements in cosmetic enhancement. Here at BPS, not only do we perform many office-based face/neck lifts, but we often combine them with hand rejuvenation to keep various signs of aging "in sync".
RADIESSE® injections to the hands can be easily administered in about 10-15 minutes, and they often make a huge difference. RADIESSE® replaces the loss of fat and gives some fullness back to the hands. Additionally, it can help camouflage the veins that sometimes create an older appearance. As a complement to this injectable treatment, brown spots can often be nicely improved with IPL (intense pulsed light laser) therapy.
I have now been performing RADIESSE® injections to the hands for more than five years, and I have been very pleased with the performance of this product – even more so than with any other product, including fat injections. The FDA has obviously finally taken notice, and we are excited to let our patients know that the treatment was approved several days ago as a technique to augment the hands.
Ultimately, the face and the hands tend to follow similar patterns of aging, so they should be treated in that same way. RADIESSE® injections to the hands can help us to achieve this goal.
– Dr. James F. Boynton, Board Certified Plastic Surgeon
Contact Boynton Plastic Surgery
If you are interested in scheduling a consultation with Dr. Boynton, please don't hesitate to contact our office today.