My Unique Approach to Brow Lift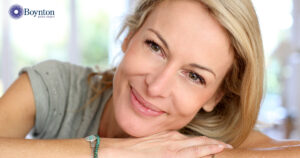 While the "BOTOX® brow lift" and endoscopic brow lift techniques can still be excellent options for the right patients, my new "go to" surgical approach to brow/forehead lifting is the lateral subcutaneous brow lift performed right here in the office. As opposed to traditional methods that involve an incision extending from ear to ear along the hairline, this innovative technique utilizes tiny incisions that are hidden in the hairline on either side of the forehead. This allows me to remove lax, excess forehead skin and elevate the brow while also addressing the arch and peak of the brow exceptionally well, ultimately producing a very natural-looking, rejuvenated upper facial appearance.
In addition to the excellent results that can often be achieved, the lateral subcutaneous brow lift offers patients several unique benefits that many traditional techniques don't, including a relatively simple and quick recovery due to limited incisions. Furthermore, the procedure is typically performed without the use of general anesthesia (most individuals need only a local anesthetic and valium medication to relax comfortably throughout treatment), and it doesn't generally require traditional hospital care and/or an overnight stay since it can be performed in the comfort and safety of my office.
Ultimately, the lateral subcutaneous brow lift is truly a groundbreaking approach to brow/forehead lifting, and it can be a great upper facial rejuvenation option for a wide range of patients.
– Dr. James F. Boynton, Board Certified Plastic Surgeon
Contact Our Practice
To learn more about this unique brow lift technique, or if you are interested in a brow lift and would like to schedule a consultation with Dr. Boynton, please feel free to contact our practice today.