Surgical and Non-Surgical Brow Lift Techniques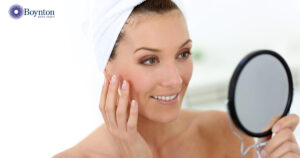 Over time, deep wrinkles, frown lines, creases, skin laxity, and various other signs of aging may begin to develop on the forehead and brow. Depending on their extent and severity, these aesthetic concerns can cause us to look tired, upset, or even older than we actually are or feel. Fortunately, there are several surgical and non-surgical brow lift options that can help rejuvenate the upper facial region for a more relaxed, youthful-looking appearance. Beginning with the least invasive approach, the brow lift techniques I employ here at Boynton Plastic Surgery are listed below.
BOTOX® Brow Lift – The "BOTOX® brow lift" can often be an excellent option for men and women who do not need a surgical procedure to address their specific concerns. Performed with BOTOX® Cosmetic, XEOMIN®, or Dysport® injections, this in-office treatment can help lift and rejuvenate the forehead in as little as 10 minutes, often with minimal to no discomfort or downtime. The effects of a BOTOX® brow lift typically last about three to four months, after which time touch-up treatments can be received to help maintain long-term outcomes.
Endoscopic Brow Lift – The endoscopic brow lift is an advanced surgical technique that's performed with a small camera (endoscope) through tiny incisions concealed in the hairline. Once the incisions are made, muscles responsible for lines and wrinkles on the forehead are weakened, and the brow tissues are raised to an elevated position for a rejuvenated overall appearance. Compared to more traditional surgical techniques, recovery from the endoscopic brow lift is typically much faster and less extensive.
Lateral Subcutaneous Brow Lift – Due to its relatively quick recovery and exceptional results, the lateral subcutaneous brow lift has become my preferred surgical brow lifting technique. Through small incisions that are well hidden in the hairline on either side of the forehead, this surgical method enables me to effectively address the peak and arch of the brow while also removing saggy, excess skin of the forehead for an enhanced, more youthful-looking aesthetic. Additionally, since the lateral subcutaneous brow lift can be performed in-office, it doesn't generally necessitate general anesthesia, traditional hospital care, or an overnight stay in a recovery room/facility.
Direct Brow Lift or Browpexy – Occasionally, I will perform the direct brow lift or browpexy for men experiencing male pattern baldness. This technique can be performed in-office, and it enables me to conceal incisions in the brow. More about this brow lift method can be discussed at the time of the consultation.
Ultimately, the most beneficial brow lift technique will depend on your specific needs and desires. If you are considering this facial rejuvenation procedure, I strongly recommend seeking the expertise of a board certified plastic surgeon who has considerable experience and proven results with a number of different brow lift methods. This can help ensure you receive the safest, most effective treatment for your unique concerns and cosmetic goals.
Contact Our Office
To learn more about brow lifting, or to schedule a consultation with Dr. Boynton, please don't hesitate to contact us today.