Tummy Tuck vs. Mini Tummy Tuck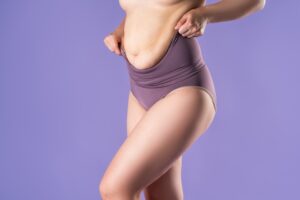 As bodies go through various changes over time—such as weight fluctuations, pregnancy, and the natural aging process—the midsection may become affected by loose skin and stretched abdominal muscles. While some improvements can be made with healthy diet and exercise, a tummy tuck procedure may be a more effective solution for achieving a flatter, firmer abdomen when traditional methods are not successful. Depending on an individual's unique needs and goals, options may include a full (standard) tummy tuck or a mini tummy tuck. Below, our board-certified plastic surgeon in Houston, James F. Boynton, MD, FACS, explains the difference between these two procedures and why one may be the more preferable option over the other. 
Full Tummy Tuck
A full tummy tuck (abdominoplasty) is designed to help restore the appearance of the abdomen by removing excess skin and fat in the lower abdominal region, as well as by repairing and tightening lax or torn abdominal muscles. The surgical improvements are applied to the central and lower abdominal areas to create a smoother, slimmer shape. Once the muscles have been tightened and excess skin has been removed, the remaining skin is redraped to produce firmer results and an improved contour. 
Mini Tummy Tuck
A mini tummy tuck is a bit less invasive than a full tummy tuck. During a mini tummy tuck procedure, only the area underneath the belly button is addressed, and the treatment is designed to improve only mild to moderate aesthetic concerns affecting the abdomen in this region. Dr. Boynton often finds there are very few candidates who will significantly benefit from a mini tummy tuck as the treatment can often remove only a small amount of skin and the recovery process is typically not very different in comparison to a full tummy tuck. On the other hand, there are some patients whose anatomy is quite "optimal" for a mini tummy tuck, and some potential advantages include the possibility of less recovery time and no requirement for drains in many cases. 
With that in mind, the best way to determine which procedure is right for you is to receive an evaluation from a board-certified plastic surgeon who can examine your concerns and talk with you about the ideal solution. To learn more about full and mini tummy tuck procedures, or if you would like to schedule a personal consultation with Dr. Boynton, please contact us today.