How Soon After Giving Birth Can I Have a Mommy Makeover?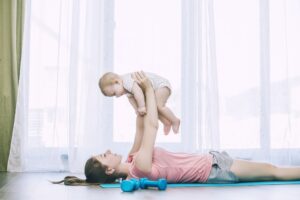 This is one of the most frequently asked questions we receive from new moms, and the answer is one of the most important to know for women considering a Mommy Makeover procedure. While the precise timeline can vary a bit among individuals, it is typically best to wait an absolute minimum of six months after childbirth and breastfeeding to undergo a Mommy Makeover. The patient also needs (ideally) to have stopped breastfeeding for at least six months, which sometimes results in an approximately one year-long waiting period following childbirth (depending on the needs of each individual) before this treatment should be performed. 
Mommy Makeovers are custom-designed procedures that include several treatment options capable of addressing aesthetic changes brought on by pregnancy and nursing. Options can include breast augmentation, breast lift, tummy tuck surgery, liposuction/lipocontouring, and more. There are a few reasons why patients should wait a certain amount of time before undergoing these procedures, and probably the most prominent one is that the body simply needs time to "settle." Areas most affected by pregnancy—the abdomen and often the breasts—will likely be going through changes after pregnancy, as well. It is best to give those areas time to stabilize. Additionally, once breastfeeding is complete, some extra time will be required before any breast treatment should be performed to see how the breast tissue reacts once nursing is no longer necessary. Basically, the body should be allowed to return to as much of its pre-pregnancy state as possible to maximize the potential for achieving the desired cosmetic enhancement results. 
Timing of a Mommy Makeover procedure is also important in other ways. Future pregnancy/breastfeeding can compromise the results of a Mommy Makeover, so it is often best for women considering these types of body contouring treatments to be sure they have completed their families before they are performed. Also, it is ideal for individuals to have reached their goal weight before a Mommy Makeover, and have a plan in place to maintain that weight. Fluctuations in weight can affect procedure outcomes, and patients who are at or near the average healthy weight for their body type are more apt to experience exceptional results from Mommy Makeover procedures. 
If you have more questions about Mommy Makeover options and what these treatments can do for you, please don't hesitate to contact Boynton Plastic Surgery. Our board-certified plastic surgeon in Houston, James Boynton, MD, will be happy to meet with you in a private consultation to discuss your needs and help you determine the treatment options that offer the best way to achieve your goals.