Minimally Invasive Areolar Reduction Is a Bonus in My Approach to Gynecomastia Treatment
Men hate having "fullness" or "man boobs" or "puffy nipples" on their chest. Most of my patients tell me that they have been struggling with this since puberty, and they are very self-conscious about taking their shirts off. As men get into their early 40s and their metabolism slows down, the body picks up "fat" around the chest and side of the chest. Guys always tell me they hate the appearance of their chest in golf shirts, especially, and many like to play golf!
I started performing my minimally invasive approach to gynecomastia treatment and male breast reduction in 2005. I have continued to evolve my technique, and I continue to be impressed by how much change we can achieve with very minimal incisions. Most male patients do not want the "downtime" of bigger surgical procedures and recovery, and they surely don't want the larger incisions and scars that are typical with most traditional techniques. I utilize two 3mm "puncture" or "liposuction-like" incisions on each side of the chest that allows me to access the tissues under the skin of the chest. I also utilize specialized "cannulas" and am able to free or "loosen" the skin and literally "sculpt" and shape the soft tissues overlying the muscle of the chest. I can then remove the "hard" or "fibrous" component of tissue with a "pull-through" excisional technique through the 3mm incision. Traditional techniques involve removing this through a "crescent moon" or semicircular incision.
The procedure I perform is done as an outpatient surgery, and it takes about an hour to complete. Patients are often able to go out to dinner and return to many usual activities the next day. Many are even able to return to work, assuming there are not strenuous lifting requirements to their job.
I have a large practice of treating male chest patients, including everything from men that "felt a rock in their chest" after taking many supplements and working out, to someone that simply gets more "fluffy" and "full" in their chest area with age-onset metabolic slowdown.
One thing I know that patients really don't like are "large areolas". This can really affect their self-confidence, and they often not only want the areola to sit flatter on the chest, but also to be smaller in diameter. Traditional techniques involved a "periareolar" (full circumference) incision around the areola to reduce the areola, similar to what is done in female breast lifts or mastopexies. In my experience, most male patients hate this full incision. I began to notice early on with my technique that in addition to the better flatness and contour that I was able to achieve with the "pull through" excision minimal incision approach, the areola also "contracted" in diameter and became smaller. This feature of the procedure really wasn't something I expected to be so evident. Because I'm able to thin the tissues under the nipple so closely, the "areolar" skin contracts without having to perform a visible incision that men don't want. Take a look below.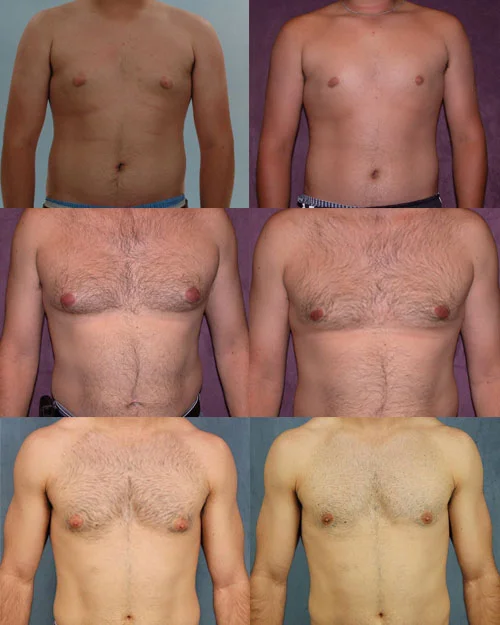 Contact Our Office
If you are interested in gynecomastia treatment and would like to schedule a consultation with Dr. Boynton, please contact us today.