What Are the Benefits of iGuide Neck Lift?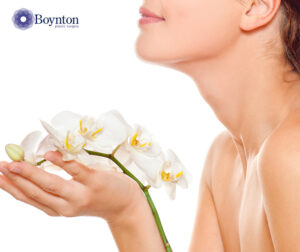 Are you interested in rejuvenating the appearance of your neck but hesitant about the recovery often associated with surgical procedures? At my practice, I offer a minimally invasive technique known as the iGuide neck lift that can help you achieve a firmer, more youthful-looking neck and jawline without the need for extensive downtime. In fact, patients often return to work and/or non-strenuous activities the next day.
Using a small incision (approximately three millimeters in length), a minimal amount of liposuction is first performed to remove excess fat and help improve the contour the neck. Through this liposuction "access" incision, a specialized suture is then placed above the platysma muscle layer via a fiberoptic device designed to gently lift and tighten the neck skin. Often performed in-office, the iGuide neck lift typically does not require general anesthesia, and it can be completed in approximately one hour for most individuals. Furthermore, results are generally apparent immediately, and there is virtually no visible scarring.
As an added benefit, the iGuide neck lift works well in conjunction with other cosmetic techniques, including the liquid facelift and the short scar facelift. By combining these procedures, patients are often able to achieve an even more comprehensive rejuvenation with excellent, natural-looking results.
– James F. Boynton, MD, FACS
Contact Our Office
If you are interested in neck lift surgery and would like to schedule a consultation with Dr. Boynton, please feel free to contact us today.