Nonsurgical or Surgical Facial Rejuvenation: Which Is Right for Me?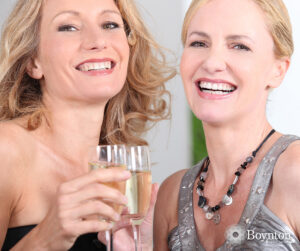 Are you considering facial rejuvenation but unsure whether a nonsurgical or surgical approach is right for you? Though nonsurgical and surgical methods for facial rejuvenation can both achieve excellent results, the former is typically employed to treat "early" signs of aging whereas the latter is often performed to address more significant aging issues. As a result, the answer to this question will depend on your particular indications and the specific cosmetic concern(s) you desire to improve.
At my practice, I offer an incisionless liquid facelift, which can often be a great option for individuals who have started to notice minor wrinkles, smile lines, nasolabial folds, crow's feet, forehead creases, lost volume in the cheeks, and/or various other preliminary signs of aging. During treatment, a customized combination of cosmetic injectables and dermal fillers – such as BOTOX® Cosmetic, JUVÉDERM®, Restylane®, RADIESSE®, Belotero Balance®, etc. – can be administered based on the person's unique concerns, ultimately helping to rejuvenate the face without a lengthy recovery. When applicable, a liquid facelift can also be combined with a minimally invasive iGuide neck lift treatment to improve the appearance of the chin and neck for an enhanced overall outcome.
For patients whose cosmetic facial concerns extend beyond the rejuvenative capabilities of nonsurgical injectables and fillers, I offer an innovative technique known as the short scar facelift and neck lift. Similar to a mini-facelift, the short scar facelift and neck lift is a less invasive yet comprehensive approach to facial rejuvenation that can not only help correct lines, wrinkles, and lost volume, it can also address excess skin, sagging jowls, accumulations of fatty tissue, and other common signs of aging. This procedure involves limited, well-hidden incisions that enable the precise tightening of deep facial tissues and neck muscles as well as the lifting of skin on the face and neck for exceptionally natural-looking results. As an added benefit, the short scar facelift and neck lift is often performed in-office using local anesthesia and analgesic medication, which generally allows patients to return home the day of their surgery as opposed to spending the night at a hospital or surgical facility.
Ultimately, the nonsurgical liquid facelift and the surgical short scar facelift can each be excellent facial rejuvenation options for qualified candidates, and the most effective approach for your unique needs and goals can be determined during a consultation at my office.
– Dr. James Boynton, Board Certified Plastic Surgeon
Contact Our Office
If you are interested in facial rejuvenation and would like to schedule a consultation at our office, please contact us today.