JUVÉDERM Vs. Restylane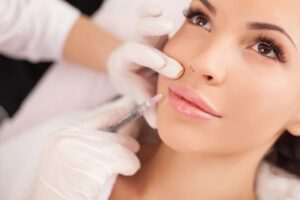 Some of the most innovative (and revolutionary) advances in the field of aesthetic enhancement over the last several years are those that involve non-surgical treatment options. Cosmetic injectables and dermal fillers are prominent examples, and they continue to improve as new products and solutions become available. Here at our practice, Dr. James Boynton offers an expansive selection of injectables to provide our patients with an array of choices. Two of the most popular – JUVÉDERM® and Restylane® – have proven to be some of the most effective (and long-lasting) dermal fillers available. With that in mind, patients may wonder which one might be the better option. The answer is ultimately dependent on each individual's unique needs and goals. 
Both JUVÉDERM® and Restylane® are hyaluronic acid-based fillers, and both offer numerous products in their respective lines—each specifically formulated to address a particular concern. For example, the JUVÉDERM® line of products includes: 
JUVÉDERM® Ultra and JUVÉDERM® Ultra Plus – These popular fillers can diminish the appearance of nasolabial folds, lines around the mouth and chin, and signs of age in other areas. They can also add volume to specific facial areas and features. 
JUVÉDERM® XC – This dermal filler can be an effective treatment for enhancing lip volume and contour, as well as reducing signs of wrinkles. It can also be included as part of a "liquid rhinoplasty" to provide temporary cosmetic enhancement of the nose. 
JUVÉDERM® Vycross – This advanced line of JUVÉDERM® dermal fillers utilizes Vycross technology, which can make the gel solution immediately "moldable" after injection and minimize gel swelling. It can also help the results last longer than previous-generation fillers. The JUVÉDERM® Vycross line includes products such as: 

JUVÉDERM VOLUMA™– This can be ideal for volumization of the cheeks and mid-facial area.  
JUVÉDERM VOLBELLA® XC – This filler is often a good solution for augmenting the cheeks and smoothing away perioral lines.  
JUVÉDERM VOLLURE™ XC – This product in the Vycross line may be a suitable option for patients with moderate to severe facial wrinkles.  
You can find more detailed descriptions of each option on our JUVÉDERM® page. 
Similarly, Restylane® offers an entire line of products that can achieve many of the same goals, including: 
Restylane-L® – Smile lines, creases around the corners of the mouth, marionette lines, and loss of volume in the lips can be effectively addressed with Restylane-L®. 
Restylane® Lyft – This option can be an ideal solution for "sunken cheeks" and volume loss in the mid-face, as well as mild acne scarring and even signs of age affecting the hands. 
Restylane® Silk – Designed to enhance fullness and contour of the lips, Restylane® Silk can also be used to diminish fine lines above the mouth with very natural-looking results. 
Restylane® Refyne and Defyne – Moderate to deep facial folds and lines can be minimized with these innovative Restylane® formulas. The composition of these solutions is designed to effectively meet aesthetic goals without compromising the ability to maintain natural facial expressions. 
Restylane® Kysse – The newest option in the Restylane® line of dermal fillers, Restylane® Kysse can be a terrific option for lip augmentation. This product's innovative ingredients can yield noticeable enhancement with results that both look and feel incredibly natural, even while speaking, smiling, and kissing. 
Like JUVÉDERM®, certain Restylane® products can also be utilized in "non-surgical rhinoplasty" procedures to help patients modify the shape and appearance of their nose. The results are not permanent, but they can last long periods of time, and be maintained with occasional follow-up treatments. 
You can learn more about each product on our Restylane® page to see which option may be worth considering for your particular needs. 
What Are Some of the Basic Differences Between JUVÉDERM® and Restylane®? 
With some JUVÉDERM® products, the results can be almost instantaneous; with Restylane®, the effects of treatment often take a few days to present. Depending on the specific product, JUVÉDERM® results may last a bit longer than Restylane®. While there are some distinctions between the two treatments, it's important to note that these two injectable options are actually quite similar in the conditions they are designed to treat; however, one may be more preferable than the other depending on individual needs, anatomical characteristics, and other factors. During the initial consultation, Dr. Boynton will evaluate your skin, talk with you about your goals, and explain the aspects of various treatment options to help you determine which option is the most ideal for what you would like to accomplish. 
Would you like to learn more about JUVÉDERM®, Restylane®, or other treatments at our practice? Please contact us today for additional information, or to schedule a consultation with Dr. Boynton.