Dr. Boynton Receives 2015 RealSelf 500 Award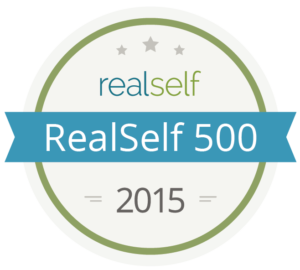 We are pleased to announce that out of approximately 13,000 board certified specialists who are active on RealSelf, our own Dr. James F. Boynton recently became one of only 500 physicians to be honored with the esteemed "RealSelf 500" award for 2015! Since its conception in 2006, RealSelf has grown into the world's largest online community for men and women seeking to learn, ask questions, and share information about aesthetic surgery. Most importantly, it provides real doctors the opportunity to address inquiries and offer their valuable expertise, ultimately helping patients make highly educated and confident decisions regarding their cosmetic needs and goals.
As a "RealSelf 500" award recipient, Dr. Boynton is recognized for not only offering helpful responses and contributions to patient questions, but also for an exemplary record of feedback provided by consumers themselves. To date he has answered a total of 491 inquires, significantly contributing to the amount of content available on the RealSelf website. In addition, he maintains an overall patient rating of 5 stars, which is the highest possible grade.
Dr. Boynton is proud to have received this prestigious recognition, and he looks forward to continuing his contribution to the RealSelf community in hopes that he positively influences the lives of each and every individual seeking cosmetic care.
For more information about the "RealSelf 500" award, or if you would like to schedule a consultation with Dr. Boynton, please feel free to contact our practice today.