Breaking Down Blepharoplasty: My Technique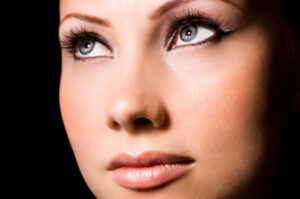 My philosophy towards blepharoplasty is to almost always approach the upper and lower eyelids together, because I feel it is often noticeable when patients only receive one or the other. Sometimes the upper eyelids may not have a lot of skin excess, but there may be a little fat pocket in the corner that patients are displeased with that will often become more apparent if they only receive lower eyelid surgery. While it also may be true that some patients have more advanced aging of one or the other eyelid, I still recommend doing both together.
As I mentioned in my previous blog post – "Breaking Down Blepharoplasty: The Consultation" – many patients don't realize that during any discussion about the eyelids, we have to also discuss the eyebrow. Most patients who have "dermatochalasis" (the medical term for excess eyelid skin), also have some degree of brow ptosis (drooping of the brow). More advanced cases require a brow lift, which is accomplished with an endoscopic brow lift at the same time as the eyelid procedure. Lesser degrees of brow ptosis are better handled with a "BOTOX® brow lift," which I perform to achieve smaller degrees of lifting without the need for surgery. I also routinely perform eyelid ptosis repairs in conjunction with these eyelid and brow lift surgeries.
I have received advanced training for all types of eyelid conditions and demographics. During my lower eyelid surgeries, I routinely perform a canthopexy (lateral eyelid suspension) that preserves the lift and shape of the eyelid while also protecting the eyelid from malposition problems. Patients that have "dry eye syndrome" are typically not good candidates for eyelid surgery; however, for these patients, I work closely with an ophthalmologist to optimize their tear film prior to surgery. Additionally, new eye drops are now available that have been proven to drastically improve dry eye conditions following eyelid surgery.
In regard to the actual surgery, I can perform the procedure in my office under local anesthesia or in an outpatient surgical facility under general anesthesia. For patients receiving eyelid surgery in combination with other procedures – such as a facelift or neck lift – I will typically perform the procedure under general anesthesia.
Final Thoughts
Recently, a growing trend has emerged where other specialties have started offering "upper lid surgery," which is concerning to me. In my opinion, anyone interested in blepharoplasty should only seek out a board-certified plastic surgeon, facial plastic surgeon, or oculoplastic surgeon for their eyelid surgery. There are too many possible complications that can occur when the procedure is performed by the wrong hands.
Contact Boynton Plastic Surgery
For more information on eyelid surgery, or to schedule your blepharoplasty consultation, please contact Boynton Plastic Surgery today.