Breaking Down Blepharoplasty: The Consultation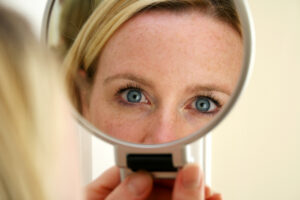 When patients come into my office for an eyelid surgery consultation, the first question I always ask is, "What bothers you about your eyes?" While answers to this question will vary to some degree, a common theme seems to be that friends and family have been telling them they appear tired or sad all the time.
These patients – who are often in their late thirties and early forties – have typically started to develop excess layers of inelastic skin around the upper eyelids that "hide" the appearance of the upper eyelid itself. In extreme cases, this excess skin can weigh the upper eyelid down so much so that vision is actually affected. Additionally, some patients have also developed loose, crepey skin on their lower eyelids, as well as "bags," "pockets," or small bulges of fat that seem to protrude.
After listening to their specific concerns and reasoning behind their interest in eyelid surgery, I like to get a full medical history of my patients and their eyes. I make sure to find out if they have experienced any problems with dry eyes, if they currently use contact lenses, or if they have undergone LASIK surgery or any other optical procedures in the past. Answers to these types of questions will help me to determine the most effective course of action for their specific needs.
Once I have determined that blepharoplasty is a viable option to successfully achieve my patients' goals, I begin to explain my specific approach for the procedure, which is tailored uniquely for each individual. I find that patients are always curious about where is the incision will be located, so I explain that incisions will be made very close to the lash line on the lower lid and hidden in the crease for the upper lid in order to conceal them in such a way that others seldom notice. I also explain that sometimes, in very hollow lower eyelids, we need to add some volume back. This is generally accomplished with fat injections or dermal fillers. Additionally, I inform patients that my eyelid surgery technique quite often involves raising their browline with a brow lift, as the two facial structures are intimately linked.
Following an overview of the procedure, I will generally explain the care my practice offers in the days leading up to surgery, as well as during the days that follow. We will also discuss pre- and post-surgical instructions and cover what to expect in regard to the recovery process.
Ultimately, the goal of my blepharoplasty consultations is to ensure each and every patient has realistic expectations for what can and cannot be achieved through eyelid surgery. I strive to provide patients with a comprehensive understanding of what the procedure entails, and I strongly encourage patients to ask questions so I can elaborate on any concerns they may have.
Schedule Your Eyelid Surgery Consultation
For more information on the eyelid surgery procedure, check out my next post in this two-part blog series where I cover my specific technique for blepharoplasty in more detail. Or, if you would like to schedule an eyelid surgery consultation, please contact our office today.