Breast Lift Scars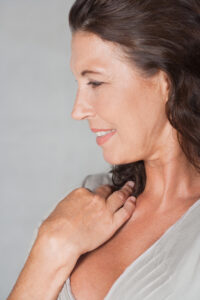 During breast lift surgery, incisions will typically be made circumferentially around the areola, vertically in the lower aspect of the breast, and horizontally along the inframammary fold of the breast. Like all surgical procedures requiring incisions, the formation of scars after breast lift surgery is inevitable. Though the appearance and texture of scarring will vary depending on factors such as genetics, heritage, and even demographics, there are a number of techniques that can be utilized during and after mastopexy to help ensure scarring remains as inconspicuous as possible.
Part of my breast lift surgical technique includes careful and precise incision closure using small, dissolvable sutures. This meticulous approach helps ensure the skin is "sewed" together in an ideal position for optimal healing. I also believe in skin tension unloading through utilization of the embrace® Advanced Scar Therapy system. Consisting of multiple silicone-based adhesive dressings, this innovative scar management system is designed to contract overtop the incision in order to neutralize and protect against stress caused by movement. Additionally, embrace® Advanced Scar Therapy is something patients can continue to do for themselves at home as the their incisions heal in the weeks following surgery.
Ultimately, potential scarring from breast lift surgery can generally be concealed in clothing and swimsuits, but by employing a proactive approach to scar management, the appearance of scarring can be greatly diminished. It is also important to add that the fuller, more uplifted shape achieved with breast lift surgery far outweighs any apprehensions about scarring, in my experience.
– James F. Boynton, MD, FACS
Contact Boynton Plastic Surgery
For more information about breast lift scars, or to schedule a consultation with Dr. Boynton, please contact us today.