VANQUISH Non-Surgical Fat Reduction
The BTL VANQUISH ME™ system is a non-surgical, non-invasive alternative to liposuction that can reduce diet and exercise-resistant pockets of fat in the midsection and various other regions of the body. Cleared by the Food and Drug Administration (FDA), this revolutionary body sculpting procedure uses no-touch technology to create a high-frequency energy field that targets a much wider treatment area than other non-surgical methods, enabling the non-invasive elimination of fat to be performed more efficiently and effectively than ever before. By utilizing BTL VANQUISH ME™, board-certified plastic surgeon James F. Boynton, MD can help you achieve slimmer, more toned body contours in as few as four to six quick treatments, all with little to no discomfort or downtime.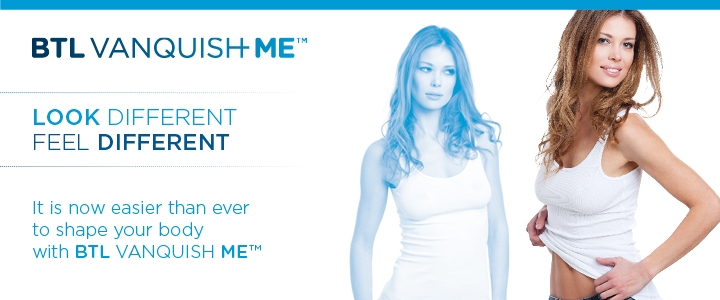 Benefits of VANQUISH Fat Reduction
The BTL VANQUISH ME™ system's unique design allows Dr. Boynton to simultaneously treat the entire abdomen (from flank to flank), leading to more symmetrical and circumferential fat reduction results than other non-invasive methods. In addition, the advanced procedure can be used to diminish fat in the lower back, "saddlebags," inner thighs, and arms. Other distinctive benefits of VANQUISH fat reduction include:
Non-surgical, non-invasive treatment (no skin contact)
Relatively short treatment times (usually about 45 minutes)
Virtually no pain and/or discomfort
Minimal to no recovery or downtime
Visible improvement in approximately four to six weeks (sometimes sooner)
Consistent, long-lasting results
The BTL VANQUISH ME™ Procedure
During treatment, Dr. Boynton will position the no-touch, stationary BTL VANQUISH ME™ system slightly above the targeted area. Selective RF™ energy is then delivered simultaneously across the region and absorbed only by the body's fat layer, leaving other surrounding tissues undamaged. Once absorbed, this energy heats fat cells to the point that they break down and are destroyed, after which they will exit the body via natural processes over time.
The entire treatment generally takes approximately 45 minutes to complete, and a total of about four to six BTL VANQUISH ME™ sessions is typically necessary to achieve an ideal outcome. There may be a warming sensation experienced in the targeted area during the procedure, but the vast majority of individuals report no discomfort at all. Immediately following each BTL VANQUISH ME™ session, some mild redness and/or tenderness may be present, though these symptoms are temporary and should not interfere with a return to normal daily routines.
Ultimately, the beautiful results that can be achieved with BTL VANQUISH ME™ are second to no other non-invasive fat reduction technique, and as long as a relatively healthy lifestyle (including a nutritious diet and regular exercise) is maintained following treatment, patients can enjoy a more toned and contoured aesthetic for a long time to come.
Contact Boynton Plastic Surgery
For more information, or if you would like to schedule a consultation with Dr. Boynton, please contact us today.