How Many Areas Can Be Treated During a Single Liposuction Session?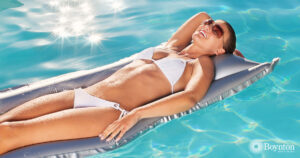 For the majority of men and women, fat rarely accumulates in just one region of the body. Some of the most common areas in which fat tends to build up over time include the abdomen, hips, love handles, back, arms, armpits, saddlebags, thighs, knees, and neck (double chin). Thankfully, liposuction (also referred to as lipo-sculpting and lipo-contouring) can generally be a great solution for diminishing stubborn fat in these regions to achieve a more toned and contoured aesthetic. But just how many of these areas can be addressed during a single liposuction treatment?
For most individuals, we can treat all "concern areas" in a single "session," after which a special post-liposuction compression garment designed to help reduce swelling and enhance healing is provided. In certain instances, however, patients with extreme fullness may need a second session to address the same area again, but this is rare. Other times patients that "regress" several years after the procedure may decide to revisit an area if they have noticed recurrent fullness, though this is not very common either.
I am all about safety with my patients – over-thinning of tissues can cause excess scar tissue and more severe contour irregularities that can be difficult to fix. "Large volume" liposuction is medically defined as removing more than 5 liters of fat in a single session. This can be a higher risk for patients, and from a safety standpoint, I usually recommend staying in line with the limits developed by the American Society of Plastic Surgeons and the American Society for Aesthetic Plastic Surgery. That said, I do have experience with large volume liposuction, and in these rarer cases, I take extra precautions to ensure safe results.
Since liposuction is an extremely individualized procedure, I recommend seeking the expertise of a board certified plastic surgeon who has considerable experience in this fat removal technique. Following a comprehensive exam, he or she should be able to determine the exact number of treatments needed to address all of your areas of concern in the safest, most effective manner possible.