Recovery from Augmentation-Mastopexy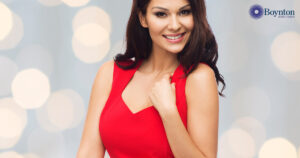 The recovery process for an augmentation-mastopexy – also referred to as a breast lift with implants – will depend on whether the procedure was performed at one time or in two separate stages. Following a single-stage augmentation-mastopexy (in which the breast implants are placed at the same time as the lift), the majority of patients can expect some degree of mild swelling and/or bruising in the breasts, but these symptoms should subside relatively quickly. Any discomfort experienced is typically described as mild and can usually be managed effectively with minimal medication. Most individuals are able to easily shower, walk around the house, and even go out for a nice dinner the day after surgery, and many feel well enough to resume non-strenuous daily routines – such as office jobs and/or running errands – after approximately one week. In order to help facilitate proper healing, however, it is recommended that patients avoid exercise, heavy lifting, and/or vigorous physical activity for a minimum of three to four weeks.
The placement of large breast implants in combination with a lift has a much higher rate of complications. For this reason, when patients favor a bit more fullness – or when their goals of size exceed what can be done safely in a single surgery – I prefer to stage the procedures to ensure a safe, effective, and accurate result. When an augmentation-mastopexy is performed in two stages, the recovery process will be similar to what can generally be expected when each procedure is conducted on its own. In these instances, patients will need to have time available for two separate recovery periods, though every effort will be made to minimize downtime to ensure every individual is able to return to normal daily activities as quickly as possible.